Hands up; I've not been the best father for S614 SEL. Not neglectful, I hasten to add, but I've always had that niggling feeling that we've not spent enough quality time together. And so, like the typical guilty parent, I've tried to alleviate my conscience by spending money on it instead. Last winter was no different, which is why you're currently reading the first update on my Elise in almost a year.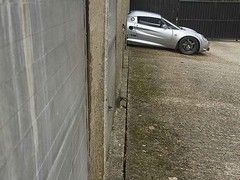 It was last November when I dropped it off at Analogue Automotive. The plan was to combine an offer of shelter over the winter with a list of jobs that could help fill any downtime in the workshop. With only a loose spring deadline, the work could be tackled piecemeal in around other cars.
Of course, it didn't quite work out like that. The ramps remained busy all winter. Three months turned to six months. Six months became nine months, and by the time I got round to heading down to Petersfield to pick it up, September was looming fast.
When I first bought S615SEL, five years ago, it was HGF that caused the most sleepless nights. Yes, those three little letters hanging spectre-like over every K-Series engine. As it turns out, though, the engine has barely missed a beat, and instead it's the surrounding infrastructure in which cracks have developed. I'm being harsh, though. Yes, there have been bills, but the amounts are probably pocket money to anyone owning a Porsche of a similar age, and for an 18-year-old car, that has spent the last five years living outside, I've got to admit it's done bloody well really.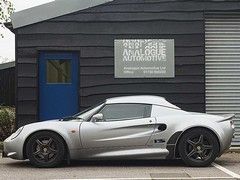 For all the work I've had done, two ticking time bombs still required defusing. Making a constant whine behind my right ear, the fuel pump was never far from my mind. Coupled with that was the radiator; the cooling system on the Elise has never been its strong point, and as mine was still running the original part complete with plastic end caps, I really was asking for trouble.
So, with half an eye on some engine work further down the line, I thought it wise to try and leapfrog the next big bill and sign-off on this pre-emptive maintenance. Thus a new all-alloy radiator was installed - a clam-off job - and a new fuel pump fitted. This is also labour-intensive, as the fuel tank has to be dropped out. The rest of my list consisted of minor jobs - silly, little things that I should probably do myself, such as respraying the mesh grills and removing and cleaning the headlight covers - swapping tyres around, fixing the speedo, aligning the steering wheel and lubricating the gear linkage.
With almost parental dedication, I stalked Analogue's social media feed while it was gone. The reward was occasional glimpses of a headlight, or a rear wheel arch, lurking behind some beautiful S1 Exige or spanking new Zenos. It wasn't much, but just enough to provide some comfort.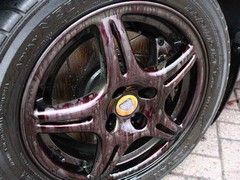 It was a beautiful sunny day when I finally returned to collect it; the blue sky bouncing off the Quicksilver paintwork as it sat outside the workshop. Better still, we had some of the best roads in Sussex with which to reacquaint ourselves on the journey home to its newly rented garage. After such a long separation, it was like meeting all over again. Those things you take for granted as an owner, became fresh and exciting once again. Little things, such as how even the gentlest tug on the door feels like an enraged slam, the levels of contortion needed to get in the driver's seat with the hardtop fitted, and the tinkle of gravel peppering the tub when you brush the centreline on a corner.
And more significant aspects such as the clarity from the steering, and the way it responds to a delicacy and lightness of touch unheard of in anything modern, the linearity of the throttle response, the feel through the brake pedal and the complete absence of gadgets and distractions. It may no longer feel fast in comparison to today's metal, but it has the marvellous gift of multiplying speed; 50 along a country road feels like 70. 60 feels like 80. You are at the beating heart of every drive; sensing, evaluating, responding. It is a potent tonic to the staggeringly fast, but increasingly detached experience delivered by contemporary machinery. I think you could say it was a joyful reunion.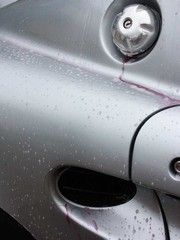 Just a few days after collecting my Elise from Analogue, I was delivering it to yet another industrial estate, this time the premises of Renovatio Automotive Detailing, purveyors of the SiRamiK coating you may have read about on the homepage recently. For
check out Dan's story, but essentially the idea is to apply an extremely tough and durable coating that promises years of protection and shine for minimal elbow grease. Financially, I'm not really in Renovatio's target demographic, but as someone with more than a slight OCD tendency, and a reluctance to spend the many hours needed to do clean the thing properly, I definitely fit the personality profile. At around £1,500 for an Elise size car, it's bloody pricey. It's also a labour-intensive job, though, and that is a big chunk of the cost. Even so, to justify the investment involved, it's really going to have to impress long-term.
According to Renovatio, my car's paint was well looked after and in decent nick for its age. But, clapping eyes on it for the first time after the treatment was genuinely impressive. It really was a sight to behold. And when we rolled it out of the workshop into the sun, it was like staring directly at bare bulb. I actually had to squint. You're probably expecting me to say it looked like it had just rolled out of the factory, but I honestly doubt it looked anywhere near this good back in January 1999.
Time to get out there, then, before the gritters start prowling, and see if it can stay looking this good without turning into a detailing nerd.
---
Fact sheet
Car: 1998 Lotus Elise Sport 135
Run by: Danny Milner
Bought: October 2010
Purchase price: £9,500
This month at a glance:Next question...

---