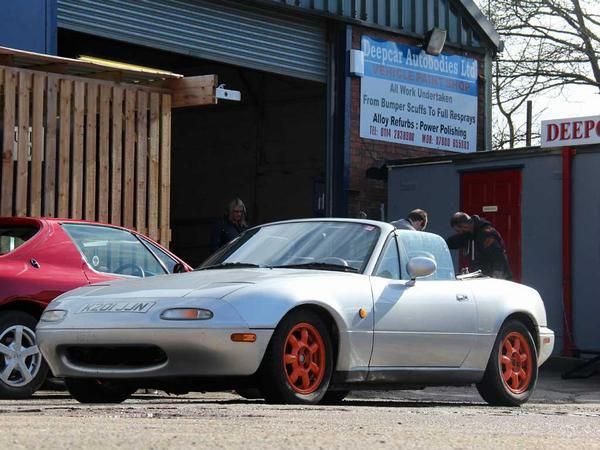 Got to laugh haven't you - there is no harsher reality check than posting about
'your' new McLaren
long-term test car. And then confronting the reality that spending less than an options tick on said car on an old Eunos prompts sleepless nights of indecision. Because, yes, the cost of a
full panels off respray
at a respected MX-5 specialist costs about the same as a carbon dressing kit on the interior of 570GT. Or, perhaps more pertinently, twice what the Mazda cost me to buy in the first place.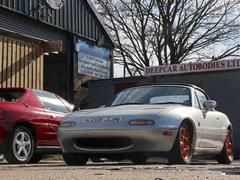 Madness? Not sure. I like to think there might be a shred of sense in this given my Eunos is thankfully rust free and, as supplies of 'good' NA Mk1s dry up, values of clean ones will strengthen. Extra motivation for going to Deepcar Autobodies too, their seemingly strong reputation on the Mazda 'scene' hopefully meaning additional value over and above a respray from any old bodyshop. Their specialist knowledge of the cars is an attraction too of course.
I know it's soppy but I've got a strong emotional bond with my little Eunos and dropping it off for a big job like this represents an emotional wrench, never mind a financial one. I know it'll be a 'different' car when I eventually pick it up and I'm curious to know how that'll feel. Dave and his colleagues from Deepcar will be doing a proper job too and the doors, bonnet, roof and bootlid will all be coming off. Glass will come out - chance to address the pitted seal around the screen and faded door cappings - and all those little scratches, scrapes and parking dings will all be dealt with. Most crucially the signs of the rear-end repair the car had at some stage will finally be addressed.
It's to my shame I didn't spot the very obvious signs of this in my excitement in buying the car. I was so fixated with sill and arch rust I didn't spot the seam just behind the aerial mount where a new rear end had been fitted. To be fair it's only really obvious in direct sunlight. But all the same...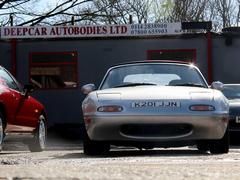 Deepcar are just off the M1 so I'm hoping to stop by on occasion and see how the work is progressing. I'm told it'll take about six weeks all in. With the hood coming out anyway I'll have to make a decision about putting a new one on, given the rear zip-out window has frayed along its top edge. Splash out on a mohair one or just a cheapy vinyl replacement? Given I only usually drive the car roof down I'm inclined to the latter. I'm also considering what to do with the wheels too. The orange daisies have been fun but I've got the nice OZ Ultraleggeras in the cellar and I wonder if those done in a nice JDM bronze colour might be a little more classy. Decisions decisions.
And the Forester? Mrs Trent drove the Mighty Duster the other day and moaned about the slow steering, spongey brakes and lack of power. "I like the Subaru!" This is good news in its way, the exhaust seemingly accepted as a permanent fixture too. With this, the new tyres and the head unit it's pretty much sorted. The only blot is the paintwork, which is looking somewhat tired and not helped by that bluff front end seemingly being vulnerable to stone chips. Japanese paint is never that sturdy it seems and some manner of professional attention is required. And, no, that's not a second job for Deepcar. At least not yet.

---
FACT SHEET
Car: 1993 Eunos Roadster (JDM import model)
Run by: Dan Trent
Bought: January 2011
Mileage: Enough to justify pending expenditure? Probably not...
Purchase price: £1,250
Last month at a glance: How strong is the man maths then Mr. Trent?
Previous reports:
The answer to everything?
More exhaust noise? Don't mind if I do...
Skidfoolery at Silverstone on the eco tyres
Er, more skidfoolery at Silverstone on the eco tyres!
Hibernation? Not for this Eunos!
Sell it? Nah, I'll just drive it, ta
Spring comes along and heating mechanism packs up
Skids on hold as LSD bites the dust
Eunos out of hiding and expenditure looms
FACT SHEET
Car: 2005 Subaru Forester STI (JDM import model)
Run by: Dan Trent/the long suffering Mrs Trent
Bought: December 2015
Mileage: 122,843km (at purchase)
Purchase price: £9,500
Last month at a glance: Tired paintwork may need addressing soon

Previous reports:
Dan scores himself one of his all-time dream cars
Living the Subaru lifestyle dream
Dan versus JDM wind deflectors (with a little help from Sticky Stuff Remover)
JDM habit runs deep in the Trent family which could prove costly