It was interesting driving the 570GT ahead of the launch of
. I was fully aware of the numbers for the new Super Series and the technology underpinning the car. But at no point in driving 'my' Sports Series with its mere 570hp have I ever considered it lacking in firepower. Indeed, as per
, the McLaren seems to be very good at generating expletives from the passenger seat.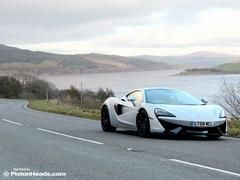 What's better than a McLaren in Wales?
Not that I've been doing too much of that lately, I have to confess. See, I was interested with running this car to get a taste of what life is really like with something this potent and exotic. Does being the centre of attention become less of a novelty and more of a nuisance? Do you ever reach a point where you chill out about parking and suchlike and just treat it as a normal car? Do you ever stop gazing out of the window at it?
One aspect of supercar ownership I've had to contend with already though is mileage anxiety. Not in terms of how far it'll go on a tank of fuel - plenty far enough at an impressive 28mpg motorway cruise as it goes. More to do with keeping the mileage down, especially given the terms of the loan when I picked it up were "six months or 8,000 miles, whichever comes first". Given the odometer was showing just over 1,700 before my first week with the car was out and it's now at 2,289 before I've even had the car a month, things don't look great for this being a long-term relationship. And that includes pretty much two weeks with it parked up while I desperately tried to find other cars to use for the runs up and down the M1. Because one thing's for sure, I want every mile in this car to count.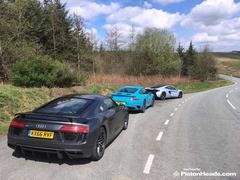 Wales with these two as well!
In a way this is a pity because the whole point of this test was to see if the GT can do what McLaren claims and be the kind of car you CAN use every day. And when I have done boring drives it's really rather good. The refinement is decent enough, the amazing visibility is soothing and I find the style and functionality of the minimalist cockpit really rather nice. The stereo is fabulous too - as I've said previously if you're buying one the GT Upgrade pack is £5K very well spent.
It would be a pity to use up that allowance on drives like this though. Especially having found out what it's like on proper roads. The trip up to Anglesey to drive the 911 GT3 was a perfect example too. A coffee stop on the M6 gave me time to sketch out a scratch route across North Wales via Bala, Ffestiniog and Capel Curig; with the weather on my side and the roads clear the stage was set for a fantastic drive.
You'll notice recurring themes whenever I talk about this car but visibility, steering feel and control weights remain core to what makes it such a thrilling machine to be in. It is obviously seriously fast too but these qualities make it enjoyable while keeping things sensible, answering one of my biggest issues with the equivalently pitched R8.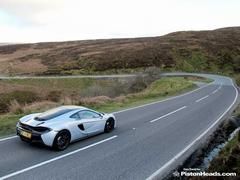 Yes, you really can enjoy it at normal speeds!
The engine is laggy but in a way I consider exciting, not tiresome. Throttle response is crisp, the engine gains revs quickly (with the boost not far behind) and it's always exciting when it really takes off. OK, so the GT sounds more impressive from the outside than it does within. But there's not much to complain about in performance.
I suspect the stability control systems are working harder than you might think though; without a diff it's using the brakes to control power distribution and after a 'spirited drive' it's the rears that smell hotter and tick loudly with the heat. There are nips and tucks going on long before you see an intervention light on the dash too, suggesting a background level of support is always there. Overall (and as I've said of McLarens before) it feels to me like a very, very potent Lotus in terms of its fast road demeanour and I mean that as a compliment to both brands.
Niggles? It's a bigger car than you'd think and when you're using all the road the 'tha-DUM, tha-DUM, tha-DUM' of cats' eyes thumps through the structure pretty harshly, the 'rattly damper' sensation I've felt on all McLarens also detracting from the refinement. You get the odd shudder through the steering column too, though overall the structure is very stiff.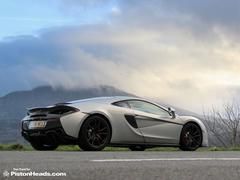 So Dan, about that mileage limit...
There's an intermittent rattle from somewhere in the engine bay that's driving me nuts too, details like this and a blob of overspray on the roof seam seemingly trifling but the kind of quality control McLaren really needs to stay on top of when asking a decent premium over the equivalent products from Audi and Porsche. More on that to follow - if you've been watching our social media updates from the last couple of days in Wales you'll have a taste of what's to come!
Before that I have an appointment at Silverstone and attendance of a Pure McLaren track day. My experience of life as an owner may turn out to be fleeting if I keep racking up the miles at this rate. But I intend for it to be as action packed as possible!

---
FACT SHEET
Car: McLaren 570GT
Run by: Dan
On fleet since: April
Mileage: 2,289 (or over a quarter or my 'allowance')
List price new: £178,735 (Basic list price of £155,755, plus Elite Ice Silver paint £3,490, Super-Lightweight Forged wheels in Stealth £3,490 + £1,110, red brake calipers £900, Rocket Red badge set, Vehicle Tracking System £630, Sports Exhaust £3,240, Luxury Design 2 package in Saddle Tan and Carbon Black from By McLaren Designer Interiors £2,520, Carbon Fibre Interior Pack £2,500, GT Upgrade Pack £5,020, first aid kit and warning triangle £60)
Last month at a glance: Enjoying that new supercar smell while it lasts