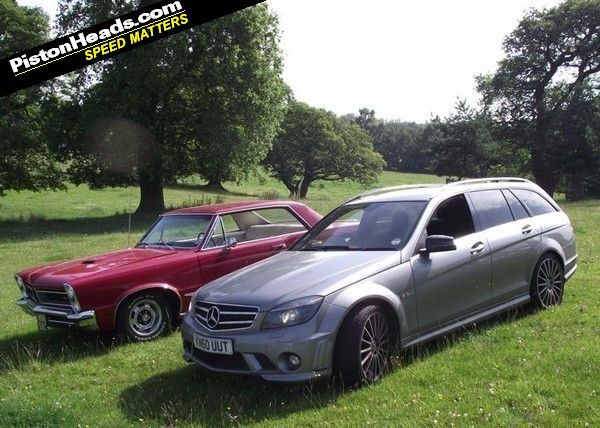 Brothers in the arms race?
The safest option when you're not content to sit behind a turnip lorry for 40 miles, that is. Or when you live in Norfolk.
The true horror of the state of that county's A roads was brought home to me again on a recent trip to Lotus at Hethel, which required an early morning cross-country jaunt from the East Midlands. I knew I should have headed South on the A1 before bearing East on the A11 but it looks such a long way round on the map... So I left extra early, and headed for Kings Lynn on the A17.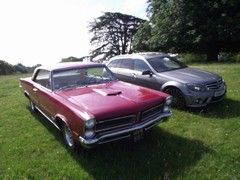 6.5 litres plays 6.3..
Jaaay-zus! If I hadn't been blessed by AMG with nigh-on 500hp under the right foot, and were it not for my own occasionally impetuous nature, I'd still be choking on diesel fumes and wondering if Lotus had launched the 2013 Esprit yet. As it was, I arrived on time, with slightly sweaty palms and wearing a bit of a grin.
There really is nothing like surfing the wave of unrelenting power unleashed by the Merc's monstrous V8, not least because it's accompanied by such a heart-warming and evocative thundery, rumbling growl. It's like tickling a baby - you just give it a prod, and are rewarded by an instantaneous grin from ear-to-ear. (Where to where..? Ed.) But it's not just the noise, or the surreal rate of gathering pace that makes driving the C63 such a thrill. There's an extra intangible pleasure from driving something that looks a bit like an 'ordinary' road car, yet which can blow unsuspecting fellow travellers - when possible half a dozen at a time - so comprehensively into the weeds.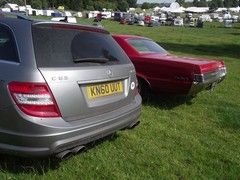 No contest in the tailpipe stakes
It's causing a little domestic difficulty actually, because while average fuel consumption in the late teens to early 20s would be eminently acceptable in a 'weekend warrior', for a daily driver doing a decent mileage it's starting to feel just a little bit profligate. Trouble is after every 80 quid fill-up, the allure of switching to a 60mpg diesel only lasts until the first significant prod of the throttle, which is usually when exiting the petrol station forecourt. Fortunately in spite of her tendency to seek swingeing budget cuts elsewhere, Mrs-R is a fan of the big-hearted Merc - to the extent that when discussing how we would spend our £166m Euro millions winnings the other night, she reckoned on buying herself a new one. (Then the silly mare ruined everything by buying the wrong ticket...)
But in spite of continued penury, we're still pumping gas in volumes for now, and enjoying the grins while they last. And talking of big V8s and the grins they engender, PH contributor Andy Craig (silversixx) had one plastered all over his visage when he rocked (and rolled?) up to CPoP in the rather tasty Pontiac GTO pictured.
At 6.5 litres it just outpoints the 6.3 litre (badged! It's 6,208cc really...) AMG for capacity, but Andy reckons his triple-carb'd machine has 'only' got three hundred-and-something bhp at the back wheels. Its V8 burble is more 'classic' than the AMG's but possibly even more evocative, and in spite of the GTO's bulk I was surprised at just how far into the reserves I had to dig when keeping pace with his exit from the CPoP car park...
Proof, in case it's needed, that there's still no substitute for cubic inches - and that there never was.
The PH fleet C63 AMG estate - previous posts:
PH Fleet Update: C63 AMG Estate
Estate Of Play: Fast Wagons
PH Fleet Update: C63 AMG Estate
Pic of The Week: PH Fleet C63 In Reims
PH Fleet Update: Merc C63 AMG And Leon Cupra R
PH Fleet: C63 AMG Going Nowhere...
PH Fleet: Mercedes-Benz C63 AMG Estate