Straight into the studio
As I write this the
Chimaera
is parked in the office car park. It makes for a rubbish commuter as I live just over six miles from the office and barely get any sort of speed up thanks to London traffic. But after three months of no use I am desperate to use it whenever I can. If you remember, I decided to put the car away for winter and decided to do this at the beginning of December with great intentions of returning to the garage to add the solar battery charged and generally get the car ready for rest. Sadly I forgot to hook up the charger and that meant a jump start in late January to get the car running, but after that one jump start the car refused to start again.
The loud end
The battery was dead, no doubt about that, so I called
Camberley Auto Factors
(who just so happen to have a friendly PHer working there) and ordered a new battery which was available for collection the very next day.
Later that week I called upon a friend who provided the most glamorous jump start imaginable by using his glorious V8 Interceptor, as we planned to drive the TVR to PHHQ to fit the new battery once the car was started. Try as we might the Chimaera didn't want to fire up and I ended up being a passenger in the Jensen as we pondered what to do next, realising that my garage was in too tight a location to consider a low-loader or trailer to move it to the workshop.
Scrubbed up nice for the photo session
A few more weeks passed until a brainwave occurred. Every weekend I stroll past a classic car dealer called
Classic Chrome
and waste their time by looking at cars I can't afford. Their premises were close to the garage where the dead TVR lay and so I asked if I could buy some mechanic labour time over at my lock up and thankfully they agreed. A week later and the CC chaps had got the car moving by disconnecting the old battery and attaching the new, this reset the immobiliser and the car started perfectly.
As with most things TVR, changing the battery isn't easy as it lives in the passenger footwell and access is gained from underneath the car, but the mechanics did all the hard work for me after taking the car to their workshop and returned a running car back to my lock up later in the day for a very reasonable £70 (including the initial diagnosis work). Annoying that such a simple problem caused the car to be static for so long, but you live and learn.
Last indoor excursion for a while, hopefully
Now full noise is restored, the sun is shining and my recently serviced Chimaera is back in business. It's seems so long since I last drove it that I have almost 'new car' excitement and as a result I treated it to a few snaps at last weekends
PH studio photo session
too. I promise never to leave it standing for so long again, but after three months of inactivity I have all of my limited mileage allowance to play with in the sunshine, an unplanned bonus, which means I can disrupt the silence by doing
more of this
and yes I know I should have had the roof down...
---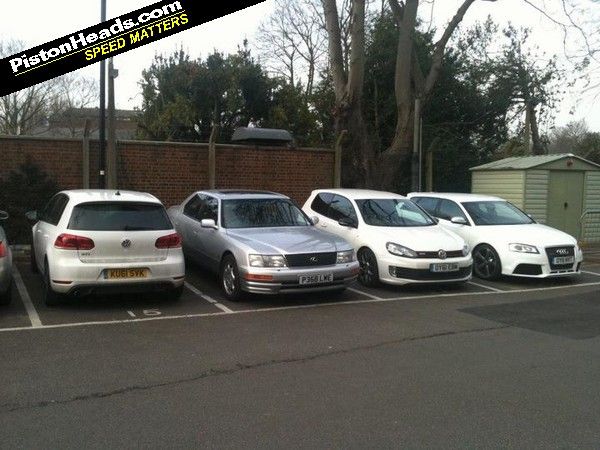 The
Lexus LS
continues to provide amazingly faultless, rattle-free wafting that belies every one of the 118,000 miles it has covered to date. And an ability to stand out when everyone else turns up in a white VW or Audi! Recently it has ferried many friends and family all of whom have enjoyed sitting on the (heated) rear seats and being chauffeured around in luxury that shouldn't be achievable for £1,800 (or less these days).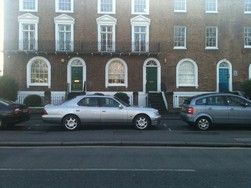 It looks 'right' in London
Faults are few and far between, but the illumination behind the climate control takes a few minutes to come on after the lights have been switched on. It's a common fault that is (so I'm told) rather tricky to fix, and as I am loathe to start dismantling the rattle-free dashboard I think I'll live with it.
A new tyre has been fitted as it was approaching the legal limit. I'd heard good things about Camskill on the PH forums and was delighted to find my oddly sized P-Zero available at under £200 delivered, especially when I normally pay £250 a corner. The very next day a huge Pirelli arrived at PHHQ which looked more suited to a Diablo than a Lexus, but in the rush to get it fitted that lunchtime I rushed to the tyre shop forgetting to take a photo of it. Peace of mind is restored as I now have four P-Zeros in great condition and shouldn't need to shell out for new rubber until next year. I might actually wash it before next year too, but let's not get too carried away.
So all is well with the fleet once more, but the buying bug is starting to irritate. I have two great cars yet the urge to buy won't leave me, but what to do?
Do I replace the TVR (I really don't want to) or perhaps tweak it a little with upgraded suspension? Do I swap the Lexus for a Jaguar XJ, but then I'd be leaving perfect reliability for a more (ahem) characterful running experience.
While I ponder that I might just go and take a look at a cheap Rover SD1 I've heard about, just to relieve the craving you understand…
---
Fact Sheet:
Car: 1997 Lexus LS400
Run by: Garlick
Bought: Jan 2011
Purchase price: £1,800
Last month at a glance: Rubber, reliability and relaxation

Fact Sheet:
Car: 1999 TVR Chimaera 4.0
Run by: Garlick
Bought: December 2009
Purchase price: £12,995
Last month at a glance: It's working again and I'm very happy indeed.
---
MOT time for the Lexus and a reawakening for the TVR