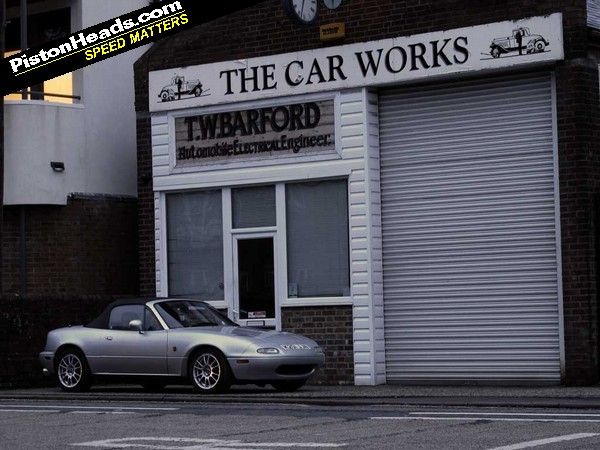 With
another MX-5 on the fleet
it's probably for the best my current non-driving status means less action for the silver Eunos. But that's not to say it's been standing completely idle.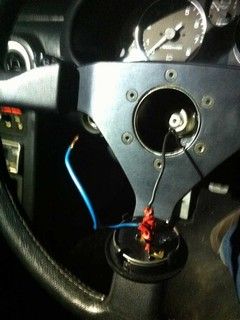 Only an idiot could cock this up ... oh
Bought on a whim with an unexpected Christmas windfall a couple of years back I now curse my impetuousness every January as I'm hit with a
triple whammy
of tax, insurance and MoT. These are all tedious things to talk about so I'll skim over the issue, pausing only to say that I've now staggered the VED to mid-summer annual renewal and having to re-insure the car with my wife as the named driver after surrendering my licence (big cheer to PH partners Adrian Flux for sorting that out so painlessly, complete with agreed value and barely a murmur about the mods) means that's now out of sync too. Which leaves just the MoT to wish me a happy new year.
I wasn't expecting too much difficulty in getting a ticket so wasn't too stressed about this. And then I remembered that the horn had stopped working a while back. It had been on my mind for a bit but even with a lock-up to store it in the idea of going outside and working on the car didn't really appeal through December. So in typical leave it to the last minute fashion I started ripping the facia apart the night before getting the car to the MoT station.
No genius with the spanners, I'm even more of a numpty when it comes to stuff involving wires and fuses. Even then I thought a horn would be within my wit. Nope. The button had a random wire on it not attached to anything which I assumed to be the earth but just tripped the fuse whenever it was touching bodywork. That's OK, I'll just nip over to the garage opposite to get a couple of replacements. Only this being the modern world of filling stations they sell enough to do the weekly shop but not anything you might actually need to keep a car running, fuel aside. A route march up the High Street and a nice man with a PH smiley tattoo on his arm at the local Kwik Fit dug out a couple of 10A fuses for me to continue my fiddling. I could hear the relay working and I found one of the horns had a loose connection but still no beep.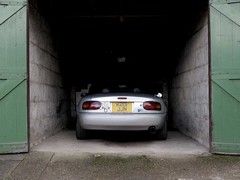 Winter accommodation needs sorted
This was turning into vintage 'five-minute job' territory but being a bloody-minded idiot (edit - delete the 'minded') I pressed on, a growing pile of blown fuses beside me. Before admitting defeat and getting the car dropped off to local spannermen The Car Works. They fitted new horns, got it a ticket and I was all sorted. Or I was, until I tried to find the certificate and (very reasonable) £140 invoice they'd carefully left in an envelope on the passenger seat. Nope. Lost. So I'll be popping back for a duplicate in due course.
All of which goes to show that I'm a bit disorganised and useless, and even paperwork is best left to the pros. Which wouldn't be a problem, but I told them not to worry about changing the oil because I'd do it myself once the car was home. What could possibly go wrong?

---
Fact sheet:
Car: 1993 Eunos Roadster (JDM import model)
Run by: Dan Trent
Bought: January 2011
Purchase price: £1,250
Last month at a glance: Eunos loses its horn, thwarts have-a-go hero spannering and gets its MoT

---
Previous reports:
Why have one wedding car when four will do?
Look, I was kidding about the downforce, right?
The Eunos returns to Scotland for another road trip
Has Dan killed his Eunos?