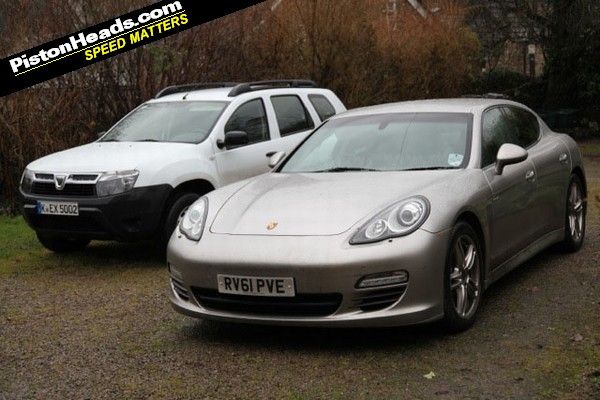 There is little to report in Panamera world right now - the car has sailed beyond 22,000 miles and continues to do things better than I had ever expected. It still averages over 38mpg and will carry three mountain bikes in the back, with the seats folded flat.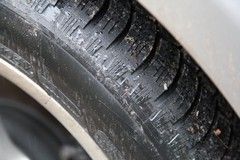 Winters have proven reassuring so far
There has been one dynamic change - winter tyres. The fronts lasted over 20k miles, which is very impressive for something this big - but it seemed like a decent chance to try a set of winters. Also, for the final few thousand miles the worn rubber had a pronounced affect on the Panam's handling: the car hunted around more, had loads more understeer and generally followed the crown in the road.
There's probably a strong argument for running car on winter tyres all year round in the UK. The way they deal with standing water is so reassuring - given that our summers seem to be wetter than our winters, having that ability to smash into unforeseen puddles at high speed and not be badly deflected is something I would value.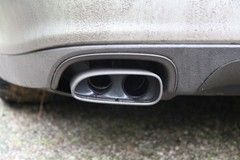 Not the most attractive part of the Porker...
The car's a little blunter in terms of steering and turn-in, but not to any degree that would matter to anyone who drives like a normal human being. I'd say they were a touch noisier at 70mph, but the difference is so marginal that you end up concentrating more on the slight improvement in ride comfort.
A big tick for winter tyres on the Panamera then.
Two unsolved questions for me right now. Why can't Porsche make a 5-seat version of this car? Why are the exhaust outlets so ugly? And why does the low coolant light come on in fast right-handers? And what the hell can replace this car for me? I can't think of anything.

---
FACT SHEET
Car: Porsche Panamera Diesel
Run by: Chris Harris
On fleet since: August 2012
Mileage: 22,000
List price new: £66,558 (base price £62,134 plus £777 for metallic paint, £1,457 for 19" Panamera Design alloy wheels, £243 for automatic dimming mirror package, £919 for Bose surround sound system, £227 for Universal Audio Interface USB/iPod connector, £526 for aluminium interior package and £275(!) for 'seatbelts in silver')
Last month at a glance: Winter tyres are so good that Harris might just run them all year
Previous reports:
Marmite anyone?
Bye bye diesel Jag, hello diesel ... Porsche?