It's been six weeks since I bought my Trophy and I've already clocked up over 3,000 miles. Crikey. What was that about preserving value? Driving it to Spa Francorchamps and back last weekend won't have helped, but I've never been one for clock watching really.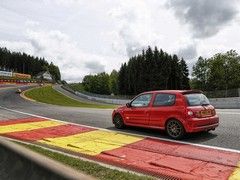 I remain infatuated with the little Trophy, and an invitation to a Renaultsport Spa track day seemed the perfect opportunity to discover more about KN55 HWX. It's worth stating now that I have very little track experience so, before you can say it, I will admit your grandmother probably could lap Spa faster. With excuses done for being slowest on the day (bar a very careful Clio V6 owner) I shall continue.
The Clio needed some attention before heading out, especially as it was running a complete mismatch of tyres from the previous owner. It didn't really help that one of the rear dampers failed the weekend before either! The rubber issue was resolved using PistonHeads Tyres with a set of Michelin Pilot Sport 3s; it seemed right to stick with the original fitment tyre supplier and they could be fitted just round the corner from PHHQ.
Sunday couldn't come soon enough - I was about to drive one of the world's greatest circuits with a mate in my Clio Trophy! Freshly serviced the car felt tip-top and heading out on the Eurotunnel both of us inside were like a couple of kids on Christmas morning. After a good night's kip in the swanky Hotel de la Source, we joined the stream of Clios and Meganes on Monday morning heading for the pearly gates. I don't wish to sound effusive but the next few hours can only be described as one of the best days of my life.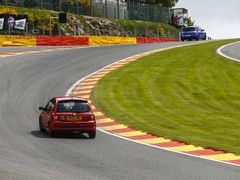 ... nailed it. Video to follow!
Surrounded by like-minded Renaultsport owners we started the first session. With my heart racing and my hands sweating, Eau Rouge loomed in the windscreen; it really is as steep as it looks! After two sighting laps the nerves were eased, the Trophy was on top form with warm tyres and we were ready for the day ahead.
Where my Clio lacked the additional torque and power of the turbocharged Meganes that were hurtling past me, it quickly made up for it in the corners thanks to those fabled Sachs remote-reservoir dampers. Well it felt that way to me. Being front-wheel drive, my uneducated expectation was a whole lot of understeer... Fool. In fact, the only place I experienced any slight push was at the Bus Stop chicane and that was probably only down to driver error. The suspension set-up and steering is heavenly, feeling compliant and predictable as I pushed harder throughout the day as my confidence grew. The 182's engine really punches above 5,000rpm which you can exploit at Spa with its huge straights and long corners like Pouhon and Blanchimont. Only the brakes let the Clio down as the pedal went soft very quickly. Hitting the pedal a little sooner ensured the brakes weren't overworked, but a decent set of pads are a must for my next circuit outing.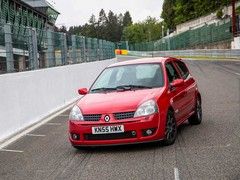 The love affair continues
Cliched though it may sound, what made the trip for me was sharing the experience with a friend. Without wanting to sound all philosophical, I think the best moments in life are much more enjoyable when you share them with other people. Driving Spa Francorchamps in a hot hatch legend is certainly one of those. So next time you go for a long drive or plan your next track day, make sure you ask a mate to get involved and tell us all about it, because I can assure you that you'll enjoy it so much more than if you're solo.
---
FACT SHEET
Car: 2005 Renault Clio 182 Trophy
Run by: Ben Lowden
Bought: April 2015
Mileage: 77,749
Purchase price: £4,250
Last month at a glance: Where better for a first track outing than Spa-Francorchamps?

---