I really like noise when driving. In fact, it's probably one of the most important aspects of any car that I drive, be that owned or borrowed. I could almost forgive the waywarndess of
for the whoosh of the turbo and the angry exhaust note. Almost. And I can't help but smile at the upshift burps from that
on the PH Fleet. But I can't abide by the fake noise piped into the cabin through the speakers - really Volkswagen?
Well it was probably going to rust anyway
I know that the schlurping, burping, popping and growling noises aren't to everyone's taste and I understand that manufacturers can't make their cars as anti-social as some of us may like. Fortunately there's the aftermarket for that...
I've found myself in the past trying to find a balance between performance and economy, and bought a BMW 123d as a fast diesel. Yes it was rapid, but you couldn't rev it for ear-tingling enjoyment and it was never going to sound exciting. You can't go sticking an aftermarket exhaust on a diesel; it's just going to sound like a tractor. It might make more noise, but then Maria Sharapova has been making a lot of noise too these past two weeks, and I find both the sounds irritating. I still ended up buying a Skoda Fabia vRS diesel as I just had an itch that needed scratching, but suffice to say I didn't last very long in fast diesels!
Anyway, I digress. I'm supposed to be telling you about the Trophy. The noise I fell for in my little Clio is the sheer rasp of acceleration note you get when you hit that magical 5,000rpm and the power you've been waiting for up the rev range finally kicks in. Below that though I doubt a 1.2 Campus would be much different, and I couldn't have that.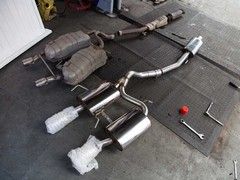 It only took me two weeks to pick up the phone to
and see what they had to offer. I've had a Milltek exhaust system before on my (ahem) Audi TT and I absolutely loved it, so I'd pretty much made my mind up on going back to them even before all the forum scanning and video viewing. To tell the truth, this was back before I was heading out to Spa, and I was lusting after more noise to take out on circuit with me. Another tried and tested product for more noise on the aforementioned Audi was an open cone air filter, so that went straight on along with a shiny red
silicone intake hose to add a bit more colour into the engine bay. Suffice to say both have delivered and I'm loving the Trophy's new soundtrack. It made me feel like I was in a proper little race car when I was out on Spa, even if I was one of the slowest on the day! It's just so playful everyday, and there's a lot of fun to be had in working the rev range to get the best induction and exhaust notes.
You can check out my drive-by video below with the Milltek fitted to see and hear what I'm babbling on about. We're always looking out for new drive-by videos, so why not send yours into us at PHTV? I've also finally taken my luke-warm lap of Spa off the GoPro from last month, so take a look for your own amusement and enjoy the soundtrack. I won't make any more excuses, but the brakes weren't at their best... To be sorted ahead of Oulton Park in August!
---
FACT SHEET
Car: 2005 Renault Clio 182 Trophy
Run by: Ben Lowden
Bought: April 2015
Mileage: 78,679
Purchase price: £4,250
Last month at a glance: Goes well and looks great; now to sort the noise

---