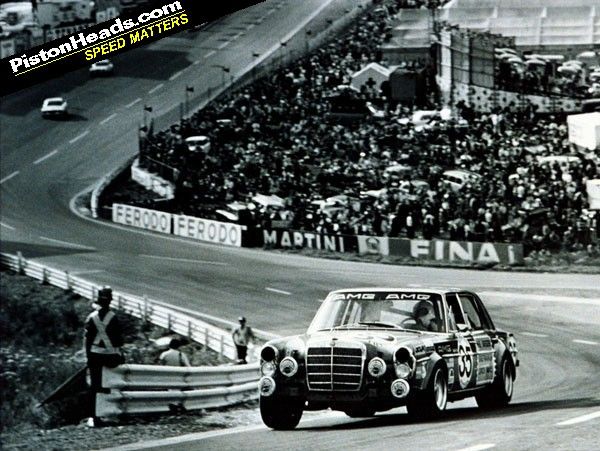 Compiling a shortlist for Pic Of The Week it was clear the signs pointed in one direction: Belgium. Spa-Francorchamps to be precise. Tying together various threads this week our picture celebrates the famous track, its most legendary corner, a mighty V8 touring car and one of our favourite performance brands.
So, here goes. Spa? Well, in addition to the Grand Prix this weekend that we'll be following from the inside with Red Bull and Infiniti we've got news of PH camping at the Spa Six Hours race and, if you prefer to do the driving yourself, a reminder that we'll be hosting a track day there just a week later.
V8 touring cars? A little more tenuous this one and a different continent. But we celebrated a glorious piece of V8 racing barge action earlier in the week reliving Peter Brock in his Holden Commodore at Bathurst. We like to think Brock and the mighty 6.8-litre AMG 300SEL pictured here would have gotten along just fine too.
And finally that AMG connection. Chris Harris visited the firm's home in Affalterbach earlier in the week and was lucky enough to drive the Hammer, the car that really put the brand on the map in the 80s. But AMG was putting big V8s in Mercs long before that, the famous 'red pig' 300SEL based on a 6.3 bored out to 6.8 litres delivering 428hp and running to a best in class finish and second overall in its first outing at Spa in 1971. Big V8s in barge-like saloons being manhandled around the most exciting tracks in the world? Whichever side of the globe you live on it's a formula we'll never tire of.
Traditional
Computer widescreen (16:10)
TV widescreen (16:9)
Portrait (smartphone, etc)