OK, so we've already POTW'd the Caterham R600. But, having driven it and still giddy with adrenaline off the back of it several days later, we thought it deserved another spell on your desktop in authentically grey and moody December gloom from the press launch in Lincolnshire.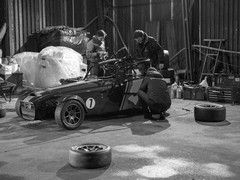 'Do you want slicks on?' Er, no ta, wets fine
It is, suffice to say, an absolute lunatic of a car. And an amusing two fingers up to the tech-obsessed world most modern sports and/or supercars now inhabit. The 500hp per tonne power to weight ratio isn't far off that of a Bugatti Veyron but the two couldn't be more different in how they go about it, the R600 taking the most basic ingredients but cooking them up with absolute skill and attention to detail. Stretching the analogy somewhat it's basic bangers and mash, albeit made with the very finest sausages known to man and mashed potato so creamy it seems to lift off the plate of its own accord. Or something like that. Is it lunchtime already?
You get the point. And you can read the full story and watch the world's shakiest onboard footage of our drive here. Scared? You should be! In a good way.