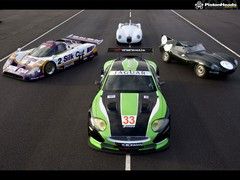 Click here to preview
Among the many opportunities for the cheering-on of 'plucky Brits'
that the official 2010 entry list for Le Mans, published this week
, reveals is the comeback of Jaguar to La Sarthe.
The Leaping Cat has a fine history at Le Mans, having thus far claimed a total of seven outright victories with the C-type, D-type, and the outrageously fast Group C XJR-9 and XJR-12.
But Jaguar hasn't been represented at Le Mans since the GT1 XJ220 DNF-ed back in 1995, so it's great to see that a Jag is heading back to the Circuit de la Sarthe and the RSR XKR GT (check out the spec here) is a fine machine to be wearing the legendary badge.
Okay, so the team is a US-run outfit with two Americans and a Belgian behind the wheel, and Jaguar itself is now owned by an Indian company, but Jaguars still feel as British as a wet Bank Holiday Monday and the art of queuing.
Plus it's given Jaguar the opportunity to wheel out some of its Le Mans old hands and to take this publicity shot of the RSR XKR alongside a C-type, a D-type and an XJR-9 LM - and for that we are certainly most grateful.
So let's get out the Dambusters theme music and those last-night-of-the-proms flags this June and wave on the Jag to GT2 victory.
Oh, and don't forget that your patriotic Le Mans fervour can also be used to support Nigel Mansell and sons, a Phalanx of Aston Martins (LMP1, GT1 and GT2,) Andy Priaulx, and Allan McNish, to name just a few...
Normal (1280x1024)
WideScreen (1440x900)
SuperSize (2048x1536)
Join POTW on facebook here