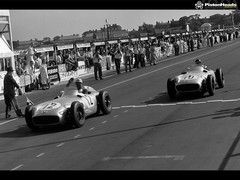 Click to preview
Many accolades have been heaped upon Stirling Moss in his time. 'The greatest driver never to win the world championship' is one, 'the quintessential British racing driver' is another. 'The man who survived falling down his own domestic lift shaft' is one he probably wishes to forget.
But the point is that Moss is indubitably one of Britain's true motorsport heroes, and the news this week that he is officially to hang up his helmet and retire from competitive racing after 60 years and at the age of 81 seems like an opportune moment to reflect on one heck of a glorious career.
Of course, with Moss there are literally hundreds of motorsport moments to choose from but we've picked out two that we feel are among the most significant.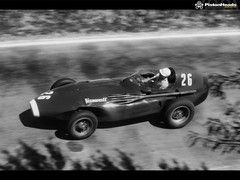 The first is that most famous of moments in motorsport time, the finishing line of the 1955 British GP at Aintree, where Moss beat Mercedes Team mate Juan Manuel Fangio to the chequered flag by just 0.2secs, becoming in the process the first Brit to win his home GP. Did he beat Fangio? Or did the gentlemanly Argentinian let him win? It's something we'll never know the answer to.
The second picture comes from the 1957 Pescara Grand Prix in Italy, where Moss took a Vanwall to victory around a gruelling 16-mile circuit (the longest ever to stage a World Championship GP) in front of a crowd of more than 200,000 fans and just over 3m 13s ahead of Fangio's Maserati 250F (you can find out more about this particular feat in 'The Last Road Race', a fantastic book by Richard Williams).
Look after yourself, Stirling; we'll miss seeing you out on the circuit...
Moss in a Mercedes
Normal (1280x1024)
WideScreen (1440x900)
SuperSize (2048x1536)
Moss in a Vanwall
Normal (1280x1024)
WideScreen (1440x900)
SuperSize (2048x1536)