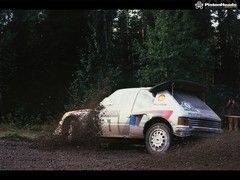 Click to preview
This week's
PH Hero, a Peugeot 205 1.9 GTI
, got us all sentimental about all sorts of things, not least the halcyon days of Group B rallying when the cars were mad and the drivers were even madder.
So here we have a Peugeot 205 T16 assaulting (literally) the 1986 1000 Lakes rally on its way to a famous victory. Drifting through the forests in the hands of Timo Salonen and his co-driver Seppo Harjanne, it comes to within inches of the trees before finding traction and hurtling toward the horizon at a rate physicists might well describe as 'impossible'*. But not before spraying everything in a 50-yard radius with a liberal coating of mud, of course.
This is the Evo II version, with the massive rear wing, massive chin spoiler and massive power. In fact, the only thing that is not massive about this car is its, well, mass. A tiny hatchback with 500bhp-plus? On mud? Incredible. Ah, those were the days, etc...
*this may be an exaggeration
Normal (1280x1024)
WideScreen (1440x900)
SuperSize (2048x1536)