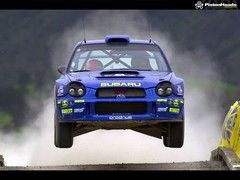 Click to preview
Okay, so we know that those of you with memories longer than three weeks will spot more than a couple of similarities with 14th October's leaping Mitsubishi Evo, but there are two particular reasons for selecting this as POTW. Aside from the fact that we reckon it's a blinding pic.
Firstly, it's been 10 years since the late, great Richard Burns was crowned World Rally Champion, so this image of him (literally) flying through stage 12 of the Rally New Zealand back in 2001 seems apt on that score.
Secondly, the Rally GB got underway yesterday, an event that Burnsy nailed three years on the trot between 1998 and 2000. And those were all the excuses we needed...

Normal (1280x1024)
WideScreen (1440x900)
SuperSize (2048x1536)