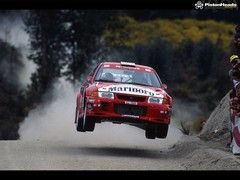 Click to preview
It's been so long since Mitsubishi has actually been successful at rallying that it's almost easy to forget that for years it dominated the WRC.
But the chirpy 1981 Lancer 2000 Turbo that we showed you yesterday (Thursday) - the first ever car to feature essentially the same mill that would go onto power Mitsubishi's rallying successes - had us thinking back to the Lancer's glory days.
Hence this airborne POTW. It's Mr Tommi Makinen at the 1999 Rally of Portugal, winging his way to fifth place in the rally, part of a season-long campaign that netted him his fourth world title in as many years.
Normal (1280x1024)
WideScreen (1440x900)
SuperSize (2048x1536)