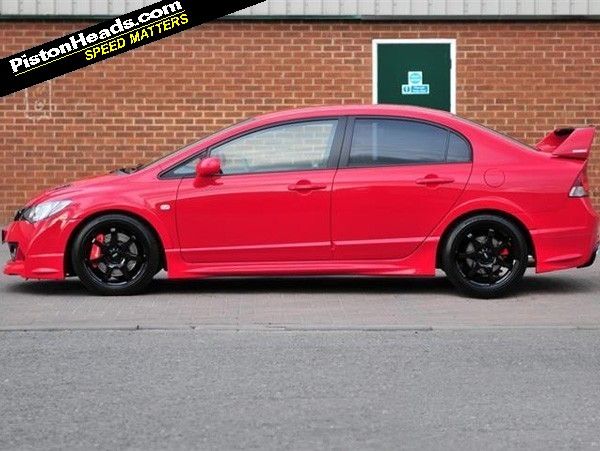 Let's deal with the name first, as it's a bit naff. As 'ah ah' the temptation is to make it 'argh argh' and sound like Long John Silver. As 'double R' this Civic has a name like one of those uncomfortably large Super Soakers potent enough to extinguish a bush fire. "Mum! Mum! Can I have a 3000 double R? Pleeeeassse?".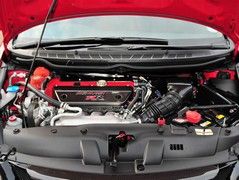 This kicks in, and then some. Yo
Anyway, silly name aside the
Mugen RR
is a very special car, even by JDM limited run standards. There can't have been many folk who drove the 'standard'
FD2 Civic Type R
and thought "You know what this thing needs? More focus" but evidently the guys at Mugen believed it lacked a little edge.
The solution? Extra everything. Power was officially up from 225hp to 241hp but given the standard Type Rs apparently made 240hp anyway it could be a tad more. That rise came through new cams and a different exhaust. Again, just in case 112hp/litre wasn't quite intense enough.
Using carbon fibre saved 10kg over the Type R (see inside for the most gorgeous pair of bucket seats) and Mugen employed its own brake system too. It was the RS to the FD2's GT3, which actually would have been a far better name come to think of it.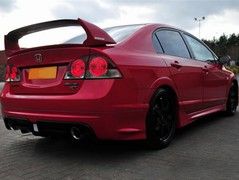 Look elsewhere for subtlety
Just two Mugen RRs are believed to exist in Britain, making it extraordinarily rare. It also makes valuing such a car quite difficult. Back when this car was imported it will have been about £32K with a strong yen (the same 4.8m yen is now worth about £28K). To see it for sale at £35K with a few thousand miles does appear quite steep. It would be great to see it sold to a real enthusiast, perhaps one that missed out on the car originally. The fear currently is that it may take a while to find that person, and they may not be willing to part with so much.
Even as something of a Honda fanboy I would struggle to spend that, especially given that very presentable FD2s are available for less than £20K. Yes, the seats are beautiful and yes, it will be a nadge quicker at the track than a Type R but it's hard to justify. One for the Honda heritage fleet perhaps?
Fifth Gear comapred the RR to a UK S2000 at Milbrook. Guess which is quicker... Vid here.
---
HONDA CIVIC MUGEN TYPE RR
Engine: 1,998cc four-cylinder
Transmission: Six-speed manual, FWD, limited-slip differential
Power (hp): 241@8,000rpm
Torque (lb ft): 160@7,000rpm
MPG: 31.7 (standard FD2 Type R)
CO2:
First registered: 2008
Recorded mileage: 3,250
Price new: c.£32K (4.8m yen, in 2008)
Yours for: £35,000
See the original advert here.