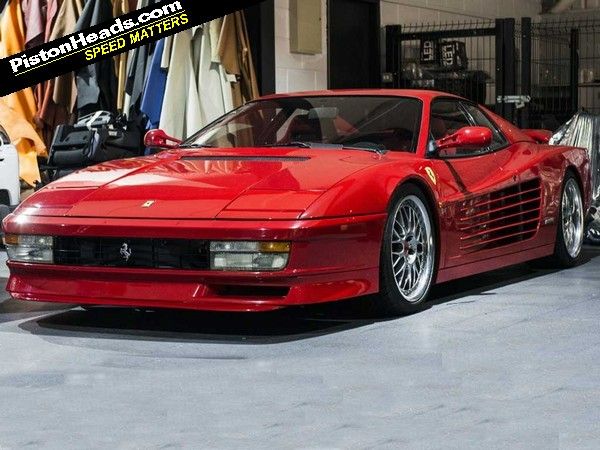 The kind of world where one might actually see a Koenig-tuned Ferrari Testarossa turbo seemed a long, long way away from the Yorkshire childhood where I first read about them, trying to conceive what it might be like to drive a car where 1,000hp could be unleashed by turning boost control valve on the dashboard. So to walk through the door of Kahn Design's showroom on a visit to discuss its new Aston Martin-based
Vengeance
and encounter one in the distinctly gritty surroundings of Canal Road in Bradford seems amusingly bonkers. There may be ruined, roofless mills with trees growing within the walls within sight of Kahn's HQ. But, as you'll well know, there is nothing shabby in this little micro climate of automotive bling.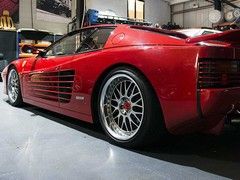 Well if you're going to do 80s excess...
It's possibly hypocritical to find the blinged Maybachs and bodykitted Range Rovers outside a little gauche for my tastes and yet fawn over a Ferrari that had the 80s equivalent lavished upon it. And, in fact, is probably far more extravagant and over the top than anything with a Kahn badge on it. Parked between a 512M and a 550 Maranello, by Koenig's standards this particular one is actually quite tame, crimes against good taste and sensible levels of performance in 80s Ferraris manifold in Koenig's back catalogue.
Indeed, the subtle chin spoiler, BBS wheels, colour-coded rear vents and lightly pimped interior could almost count as tasteful, only the tacked on rear wing spanning the rear buttresses really making it stand out from standard Testarossas. Given some of the creations like the Koenig Competition Evolution II it appears to have got off pretty lightly.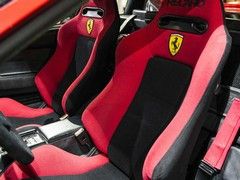 Oh yeah, it's left-hand drive too...
For all the apparent incongruity of encountering a Koenig in a Bradford showroom it makes total sense to find one for sale here. After all, modern-day Kahn customers are the heirs (perhaps literally) of the people who would have bought these cars back in the day. And if there's a frustrating lack of technical information about the car and the extent of the work lavished on it by Koenig - it was found in the Gulf, the sales guy has a ready demand for such cars and knows where to source them - it perhaps says much about the mindset of the kind of people who own them. Would I have one over that other
80s twin-turbo Ferrari
I was fawning over recently? Probably not. But as part of a wider collection of daft supercars you'd have to be tempted.
All about the pose. But if you're going to do it, do it properly!

---
FERRARI TESTAROSSA KOENIG SPECIAL
Price: £124,995
Why you should: You're not likely to see another one
Why you shouldn't: It'd be nice to know exactly how bonkers this one is
See the original ad here.
[Source: Classic Driver]