Chris Harris yesterday asked if
, citing sluggish sales of the (by car industry standards) ancient Gallardo as one sign that the bull was slightly less than raging these days.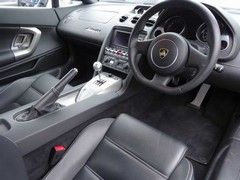 Low-key inside too but gated manual appeals
Well, just 24 hours later a press release appears in the PH inbox boasting of strong sales from last year confirming that demand for Aventadors is, as Chris asserted, strong. Overall Lambo sales are up by 30 per cent, American sales by 53 per cent and turnover by 46 per cent. There's no mention of the 'profit' word in the press release but it would seem building Aventadors is doing the coffers well, and Lamborghini boasts that with the introduction of the Roadster version order books are full for the next 15 months.
Compared with the 922 sales for Aventadors, the 1,161 Gallardos Lamborghini shifted ('where to?' is one question worth asking, if the stories of two hangers full of unsold cars Harris mentions are true) is, in its words, "almost stable" compared with 2011, total sales thus far of 13,000 ensuring it's still the most successful Lamborghini ever in sales terms. To put that in context, Audi has sold just over 20,000 examples of its R8, which is based on the same platform.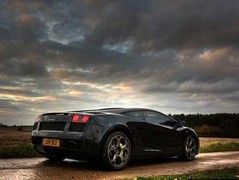 Half as much for an older manual Gallardo
Anyway. Enough of the business number crunching. Let's look at what you might want to buy. Like
. 'Discreet' and 'Lamborghini' aren't two words you'd usually put together but if you're among those rebelling against the relentless march of technology and electronic nannying the fact it's got a manual gearbox and only two driven wheels might tempt you. And if it doesn't, the £20K-plus saving over a new one might, a bare-bones LP550-2 currently listing at just over £140K (£20K less than a pre-facelift MY12 LP560-4). It's not a Balboni in name (or questionable white stripe) but it is in spirit and performance, the 3.9 seconds to 62 and 199mph top speed both being the same. As, indeed, are the rest of the numbers on the spec sheet.
A V10 Audi R8 gets off the line slightly quicker thanks to its four-wheel drive and a new one costs a similar amount but it's down 15hp, around 200kg heftier and, let's face it, which key ring do you want to carry round with you, given the choice? Half this money would get you into an original manual Gallardo in similarly subdued colours and with less than 30K on the clock, too - but there's something about the back to basics combination of a gated stick shift and rear-wheel drive that appeals. That, and another 30hp.

---
LAMBORGHINI GALLARDO LP550-2
Engine: 5,204cc V10
Transmission: 6-speed manual, rear-wheel drive
Power (hp): 550@8,000rpm
Torque (lb ft): 397@6,500rpm
MPG: 16mpg (NEDC combined)
CO2: 315g/km
First registered: 2011
Recorded mileage: 6,514
Price new: £141,067 (plus options)
Yours for: £119,850