It's always the way with Japanese performance cars. Owners want more performance from cars that respond really well to modifying. Buyers want standard cars to see how special the cars were from the showroom and perhaps make their own tweaks. Then they have a modified version...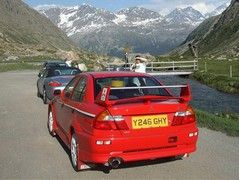 If you're doing few miles best make them special
As such standard versions of Gran Turismo icons tend to command really high prices as gamers grow up and clamour for the best examples. See the
for example. Of course there are exceptions (how RX-7s of the early 90s haven't risen in value is a mystery) but typically standard iconic cars will be really sought after.
The Mitsubishi Evo VI Tommi Makinen Edition has a two fold appeal with both GT gamers and rallying fans. It was the car to beat on Special Stage Route 5 as well as actual special stages and is therefore quite a desirable thing. To some people it will look like a chavved up cab. Ignore them, heathens.
And if you want a TME, this one appears perfect. Standard UK car? Check. Red with graphics? Natch. Low miles, few owners and FSH? Hat trick. Moreover, it hasn't been so cherished that the next owner needs to be scared of using it. Number 54 has covered 38,000 miles, which means just under 3,000 miles a year. Enough for quite a few weekends away through the year, as the current keeper seems to have enjoyed.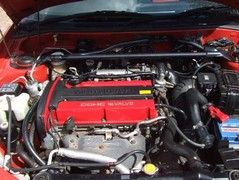 And not a single modification. Really
announced by Mitsubishi earlier this year will be the last of the conventional Evos. That sounds oxymoronic as no Evo is conventional but it seems unlikely that any future version will have a 2.0-litre turbo as its sole means of propulsion. And will rallying prove as captivating to car buyers again in the future as it was 15 years ago? The Evo VI TME is the best of the best, when Evos ruled rally stages and road tests. As an icon with the breed just about extinct the TME will surely be covetable for a while yet. £16K can't diminish much further with more diligent maintenance and use.
Probably time to mention the Subaru then. For exactly five pounds more than the Evo there's this stunning Impreza P1. A few more miles, yes, but that famous two-door Impreza shape, the WR Blue paint and again the reputation as probably the best special edition of the best era of a hugely successful rally car. Well it's this or a 22B. It ultimately comes down to whether you were a McRae or a Makinen man at the turn of the century. Either way you'll have an epic driver's car the kind of which we won't see again. Apart from on Gran Turismo.

---
MITSUBISHI LANCER EVO 6 TOMMI MAKINEN EDITION
Engine: 1,997cc 4-cyl turbo
Transmission: 5-speed manual, four-wheel drive
Power (hp): 280@6,500rpm
Torque (lb ft): 275@2,750rpm
MPG: 23
CO2: N/A
First registered: 2001
Recorded mileage: 38,446
Price new: £32,995
Yours for: £15,995
See the original advert here.