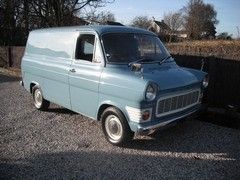 The words 'Ford Transit' and 'show-standard' are normally mutually exclusive, but
we've spotted this one on eBay
with no panel damage, no rust, and no six-month-old fast-food containers stuffed down the front of the dashboard. In fact, it's just plain 'mint'.
You do still see Mk1 Transits on offer, but rarely are any of them in this condition - let alone one of the rarer side-door models. Its previous owner spent thousands restoring it, and if we had a Mk1 Escort race/rally car we'd love to turn up at the next meeting towing it behind this.
Of course, with so few about they're hard to value, and £11,995 sounds like a lot of money for a 40-year-old van.
But don't forget that if you wanted a split-screen VW van in similar condition you'd be paying almost double that amount. And looking at the prices being paid for properly prepared competition Mk1 Escorts nowadays, perhaps it's not so steep after all?