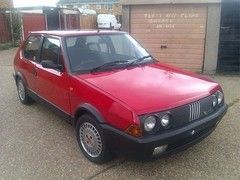 If you started naming eighties hot hatches, how many would you come up with before you mentioned the Strada Abarth? Be honest...
At a time when lots of small and small-ish hi-performance hatchbacks were light, fast, responsive and brimming with character, one of the most responsive and characterful was the 130TC. They may have lacked the build quality of a Golf and the engaging handling characteristics of a 205 (...in the dry at least), but they still had much appeal for leaden-footed yoofs of the day.
The carburettor-fed twin-cam motor was reputedly strong enough to survive anything short of a nuclear explosion and, like the majority of its contemporaries, it was riotous to drive.
Of course, Italian cars of this period were still suffering from Fiat's decision to trade the plans and tooling for the 124 to the Russians in exchange for some iffy steel, and the Strada was no exception. Generally speaking they rotted...badly, which is what makes this 130TC survivor all the more special.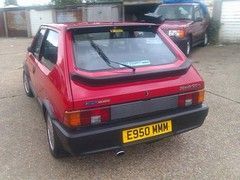 The vendor claims to have known of the car since 1993 when the then-owner supposedly partially stripped the car and treated it to the mother-and-father of anti-rust treatments. His claim that the car is still rust-free, has never been welded and furthermore that it needs no welding would appear to back this up.
On the inside the fascia is less than inspiring, but just look at those seats! What's more, aside from the headlining needing attention it all looks to be in very good order. Under the bonnet, the motor reportedly benefitted from a quality rebuild about 12,000 miles ago, which included some lightening, balancing, and blue-printing which, it is claimed, has upped the power a tad to 137bhp. This all sounds good...
If there's any bad news it's that you can't buy it. The eBay auction has run its course and, although it didn't burst the £5000 mark, £4580 is still a fair amount of wedge. You could get, say, a late-eighties 16-valve Golf or 205 1.9 GTi for less than that, but could you be tempted by the rarity of the Strada?