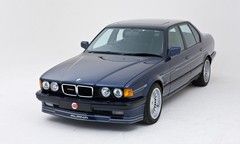 It's a measure of how far executive saloon power outputs have come over the past couple of decades that for one to boast 350bhp nowadays isn't really news.
There are a host of fast execs now with more than 500bhp, but back in 1990, when a regular BMW 750i was considered a lively performer, the 350bhp Alpina B12 version was one of the fastest big saloon cars you could get.
Sadly, the vast majority of executive performance machines reach a stage in their life when they become just a big, old car in the eyes of many. They become cheap to buy but are still expensive to run and maintain. It's during these years their general condition deteriorates and servicing schedules become just a rough guideline at best.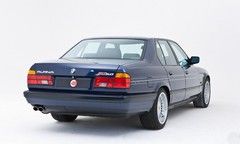 This Alpina B12
, however, has made it through the big-old-car years without ever having to suffer at the hands of the kind of impecunious fellow who preferred lowering springs and aftermarket alloys to correct maintenance.
The vendors describe it as being in 'pristine' condition, and all the pictures seem to back this up. The service record appears to be up to scratch and apparently there's enough documentation to support the recorded mileage of 117,000.
At £11,995 it looks like top money, but does seem to be a top car. And rare. A quick scan through our classifieds turned up only this 1990 Alpina B11, which appears to be in very good order (although we're not sure if the parking sensors are quite original).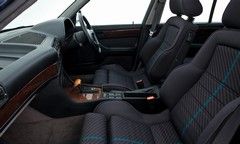 It doesn't appear to be in quite as good order as the B12 and, being a B11, it has half the cylinders of its bigger brother. But on the flip side it costs less than half that of the B12 and has a sight more than half the power...
Before we sign off, it would be unforgiveable of us not to point that there are a lot of other impressive machines in stock at the B12 vendor's emporium, but to pick out just two how about this Batmobile and this Lister XJS for starters? The 'lottery win' list just got a little longer…