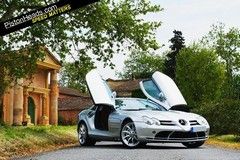 So: SLS AMG or McMerc? The reason we ask is that, although there are differences between the two and they were built years apart, at the moment both cars are similarly priced. Hmmm...
This 2005 Mercedes SLR McLaren turned up in our classifieds recently, priced at £157,500, which compares in cost at least to this 2010 SLS at £154,995.
Of course, one is practically new whilst the other is five years old, and the SLR has covered 6250 miles - which is low but can't compete with the SLS's...erm...30, but in terms of performance there's not much in it.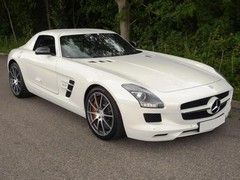 Both should hit 60mph from standstill in around 3-point-something seconds and, if the SLS wasn't limited to 197mph, there would be a fair chance that it could get somewhere near the SLR's 207mph (although some testers do report that the SLR will go faster than that).
The SLR received some criticism from observers when it was launched for a cabin which, whilst far from shoddy, didn't quite seem fitting in a car which cost a shade under £300,000. On the other hand the interior of the SLS seems to have been a hit, so it's a win for the newer car on that front. But then again the SLR was developed and built by McLaren. The debate could run for some time...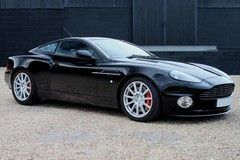 It's a tough decision that's made even tougher when you consider that
this 2007 Aston Martin Vanquish S 'Ultimate Edition'
(one of 50) is a realistic and exclusive alternative at £149,995.
Showing just 1600 miles, the Aston is a fast car - although not quite in the same league as the Stuttgart/Woking machines. But if you like performance to come with more than a drop of exclusivity it's worth remembering that only 20 of the 50 Ultimate Edition Astons are right-hand drive...