The sight of the stunning
on PH recently prompted a quick peek at the classifieds, which revealed that it's possible to acquire the road-going V8 version for about a tenth of the cost of the £295,000 racer. Sounds great, but would such a car just be a well-worn dog? And if it wasn't a dog, would the running costs alone make you wish that you hadn't handed your money over in a giddy fit when you went to view it?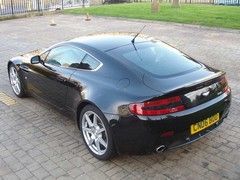 Yep, we're at the stage now where, if you have thirty grand to spend, it's enough to put you in your very own early 4.3-litre V8 Vantage. Inevitably any car at that end of the market is likely to have covered quite a few miles, and/or suffered at the hands of someone who took Aston's servicing schedule as a rough guide only, so the only solution was to go and take a good look at one ourselves and speak to some specialists to get a feel for what you might be letting yourself in for.
The V8 Vantage in question appeared in our classifieds recently and is about as modestly priced as a V8 Vantage gets at the moment. As such we had our reservations about how well presented it might be, but as you can see it doesn't look half-bad at all. Admittedly, Onyx Black is probably one of the more appealing colours for a Vantage, but nevertheless an exterior inspection revealed a chip in the paint on the tailgate, a curious 'dimple' near the top of the passenger door, some general light scratching, a very minor windscreen chip (well above the line of vision), and one wheel which would benefit from a refurb.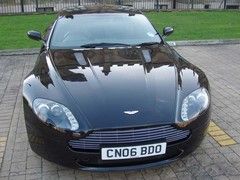 The interior has a (dare I say it...) rather Porsche-esque feel in terms of how well it's been nailed-together; even after six years and 88,000 miles of regular use the wear to the driver's seat outer bolsters is minimal. The driver's floor mat has seen better days and the leather trim is just starting to come away at the front of the instrument binnacle, but generally it's held up surprisingly well and still feels like a special place to be.
So far then the only thing that might put you off would be the mileage, so we asked how it drove. Being a keen PHer (who attends Le Mans every year by the way) our man just grinned and uttered 'let's go for a spin. I know a good route.' The route he spoke of offered plenty of opportunities to give the Vantage the berries and featured a number of quiet, wide, empty roundabouts. Heaven. From this run out the conclusion was that the car still drove drum-tight, didn't squeak or rattle and the sound...oh, the sound. There are V8s out there which deliver more low-down grunt, but once it's in the upper-end of its rev range there are few engines of any description that sound better.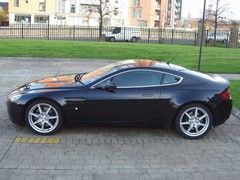 The vendor acquired the car on 6000 miles and since then it's been serviced as per the schedule either by an Aston Martin dealer or by Stratstone. In that time it's been used regularly (including a trip to Maranello to have a play with a Ferrari 458 over which it averaged a reasonable 23.8mpg) and the only failures have been a rear light cluster and a damper unit. So on the face of it a sub-30k V8 Vantage might not be a bad idea, but of course we haven't covered the issue of servicing yet.
Nicholas Mee is an independent Aston Martin specialist who has a lot of experience successfully racing the V8 Vantage as well as servicing road cars, and commercial director Neil Garrard (unsurprisingly, perhaps) rates the baby Aston. "I'd go so far as to say that the V8 Vantage is the most affordable and possibly the most robust of the currents Astons to run. Now that the values have dropped they're a particularly good proposition." A five-year or 50,000-mile service will cost £727 plus VAT from a specialist like this using genuine Aston Martin parts, while a set of front brake pads for example is £396 plus VAT (and that's the price from a specialist, for the fronts only!)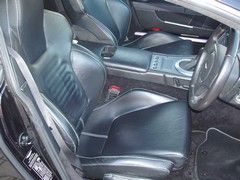 also reckons that a V8 Vantage is good news. "Obviously you have to buy one that's been serviced to schedule, but in our experience they're very reliable cars. Personally, though, I reckon you'd get even better value for money from a £40,000 car. A lot of the value with a Vantage is its history." Of course a main dealer is going to be the pricier option when it comes to servicing, but they can still be of use even if you're planning on getting your car serviced by a specialist, because from about £300 they'll do a full written report and road test to help point out any issues that may be on the horizon.
It seems then that there's nothing to be too concerned about if you're considering getting into V8 Vantage ownership at the more affordable end of the market, as long as you're happy to fork out for the servicing, and you get it done on time. Speaking of which, servicing is a key issue with the car we went to see, because it's due one. The vendor is aware of this, though, and from speaking to him it's likely that he'd take this into account if you were serious about buying. The good news is that those expensive brakes shouldn't be needing any attention in the near future because they were replaced - discs and all - in August. Oh and the Potenzas are all in good nick too.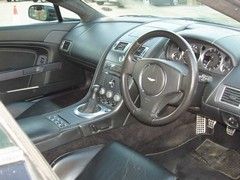 So the upkeep may be a bit on the dear side, but apart from that the V8 Vantage is gorgeous-looking, fine-handling, heavenly-sounding, and even remotely affordable. What's not to like? (Apart from some of the servicing costs...)