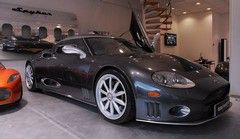 Let's face it; if you're going to spend £140,000 on a car that you want to deliver pure driving enjoyment, the C8 Laviolette probably isn't on your radar.
It's not that they don't have a healthy amount of performance; 400bhp to lug around just 1275kg should be enough for most people, and when they were launched those who tested them generally reported a very stiff, neutrally-handling car. But when you gaze at the detailing and that interior, you realise that out-and-out hoonery just isn't what this car is about.
This one (number 186) was spotted at the Bob Forstner showroom in Park Lane, London, where they have some rather delectable stock (Zonda F Roadster 'Final Edition', Koenigesegg CCX-R, Zonda S and so on...). It's a one owner car with just 2,300 miles and a decent specification.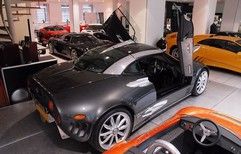 Built before the fitment of the airbag-equipped steering wheel it sports the earlier four-spoke 'propeller' item (who needs airbags when your organs could instead be impaled on something so cool?), as well as the quilted hide and Alcantara interior options.
Fans of Audi's sonorous V8 will be glad to also learn that it boasts the Sports exhaust with 'Whisper Function'. Many prefer the idea of a bi-modal exhaust system which is loud by default and which can be hushed at the press of a button, as opposed to one which is quiet and delivers the decibels only when you give it the berries.
As exquisitely-detailed, hand-built supercars go, £149,000 seems pretty reasonable when you stack one against, say, a Zonda. What do you reckon?