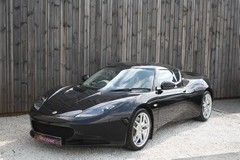 A mate went to look at a 2010 Porsche Cayman 2.9 a couple of months ago. They're not the quickest car out there but he liked it and asked me if there was anything else he should look at. I suggested one of these, but before he'd even driven one he got impatient for a new toy and forked-out for the Porker.
Obviously it's not as simple as picking one or the other because each has a different focus. But a year-old Evora like this one with both the Premium and Tech packs fitted is very much removed from the raw, pared-down, carpet-less image that has accompanied Lotus since the Elise was launched, and might have proved to be a viable alternative (and - say it quietly - a quicker one too...)
The Tech Pack gives you upgraded stereo, speakers, and amps as well as DVD, MP3, USB, cruise, parking sensors and tyre pressure monitoring which would have been a £2700 option, and the Leather Premium Pack (you guessed it - leather on the console, door pockets, footwell panels, oh, and the Recaros) weighed in at a hefty £1800. All-told this car would have retailed at about £55,000 a year ago.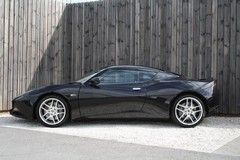 Since then it's done just over 6,000 miles and has just had its second service carried out by the main dealer who has also had the door handles painted (...since the pics were taken) in Starlight Black to match the body colour. They've just knocked over a grand off the price too, from £39,551 to £38,853.
I haven't driven one myself yet but colleagues tell me they're extremely good, and of course with a Toyota engine out-back it's reasonable to expect reliability along with a fair degree of comfort, although of course some will argue that a Lotus should be more of a visceral, sense-bombarding experience.
Either way, this Evora looks like interesting value, and how good does it look in that rear-three-quarter shot?