Sytner Nottingham kindly agreed to lend me an example of the new Alpina V8S early in the summer of 2002. This was one of the better things that could happen to a chap in his late 20s, and I immediately set about busting the mileage limit enforced by its owners.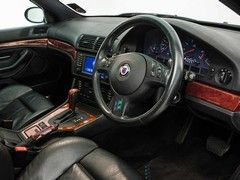 E39 interior in Alpina form is cossetting
This meant taking the car straight to the South of France, on an overnight trip that would allow us to take advantage of the Alpina's main advantage over
an M5
on smooth European roads: the lack of a speed limiter. It would cruise quite happily at 150mph and, given enough space, would indicate 180mph. Looking back, it was probably the best car I've used for that trip because it was so calming, the cabin in the E39 was just spot-on and the driving position perfectly accommodated my simian proportions.
The V8S was quite a step over the standard V8. Alpina claimed 375hp, up from 340hp and 376lb ft over 346 for its predecessor. Running fast on an Autoroute, it felt every bit as powerful as the claims. We were tailing a very fast-moving, Swiss registered B5 RS4 when the car felt a little loose in a fast turn – it turned out to be a slow puncture. Muggins here thought that limping to the services and inflating it would do the trick. Only the tyre didn't inflate as expected - instead it exploded as I leant in to listen for air escaping. I came to with busted ear-drums and the future Mrs. H wondering what on earth I was playing at.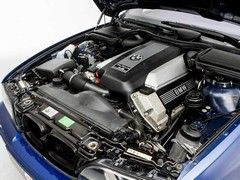 4.6-litre V8 gives 375hp wallop
Sourcing an Alpina-rated Michelin Pilot Sport on a car that has just been released with a new 19in rim is not easy.
We all know about the reduced spring rates and Bilstein dampers, and yes, they do make these B10s much more supple on British roads, but then the automatic gearbox felt pretty old back in 2002, so today it would seem decidedly antiquated. The car would also have been better with a mild LSD.
But for me the E39 B10 was an Alpina sweetspot. The shape lent itself so well to the Alpina body styling, wheels and reduced ride-height – especially the Touring. There's lots to watch out for on these, and many people know all about them on the interweb, but by far my biggest gripe with running a B10 was bending wheels. I still have 6 buckled ones in the shed.
Lovely looking car, this blue one, though - all the more so for not having rear privacy glass.

---
ALPINA B10 V8S
Engine: 4,837cc V8
Transmission: 5-speed auto
Power (hp): 370
Torque (lb ft): 376
MPG: N/A
CO2: N/A
First registered: 2003
Recorded mileage: 42,010
Price new: N/A
Yours for: £16,495
See the original advert here.