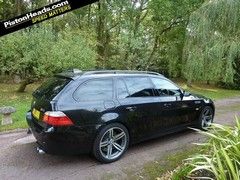 Plenty of load-lugging muscle about...
You should know all about our
by now. Well, after 24,000 blacktop-creasing miles we've had to give it back, (sigh... ) so we're wondering what else is out there that might fill the hole.
Of course the Germans are adept at producing cars which are equally at home lugging loads as they are dishing out some humiliation at the traffic light stampedes, and both the Audi RS4 Avant and BMW M5 Touring provide some stern competition for the Benz.
Fast German estates are pricey cars brand new, and relatively cheap to buy once they're six-or-seven years old. So how about something that has already suffered the lion's share of its depreciation and is still fresh in the memory?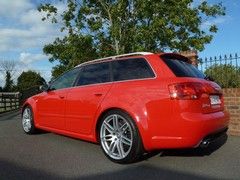 turned up on eBay at an Audi RS specialist in Aylesbury. It appears to be in fine fettle, is loaded with toys and has had the Dynamic Ride Control issues addressed by Audi (there have been rumours that Audi have extended the warranty where the DRC is concerned for cars up to five years old), who have serviced it for all of its 55,000 miles. The be-winged Recaro Sport front seats and flat-bottomed steering wheel were both no-cost options when the car was new, although it appears that the majority of buyers prefer these in a used RS4. All the servicing is right up to date and has been carried out only by Audi dealers, and the asking price is £27,500.
Moving on, this '07 Bavarian offering from our classifieds has covered less miles than the RS4 (45,000) and is nearly three grand cheaper at £24,750, although no less well-equipped. What's more it's still in the hands of its original owner who forked out nearly £70,000 for it when it was new (including an extended warranty), and has only ever had it serviced by the supplying dealer.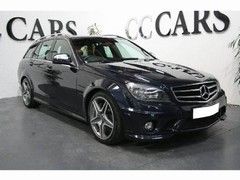 is from the Auto Trader classifieds. It's a year newer than the other two cars but at 77,000 miles has covered more ground. Like the other two it's brimming with options, has been looked after by main dealers and is as Chris-R has testified, these are very fast, comfortable, and capable machines.
Out of these three examples the Beemer probably gets the nod purely in terms of value for money, but of course it's not that simple because all three cars have fundamentally different characters. With the RS4 you get four wheel drive with a flexible and high-revving V8 and a conventional manual gearbox, whereas with the M5 you get a screamer of a V10 and SMG, and the C63 uses a big-capacity V8 and a slushbox.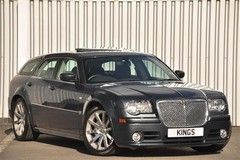 Each car has lost the majority of their brand new value so really it comes down to which of the three floats your boat. But... is there another way? Although not strictly a German car,
has Mercedes underpinnings and a healthy 425bhp. It's a 2009 car with just 1200 miles on the clock and isn't exactly wanting in the specification department. It may fall short of the other cars here in a few key areas, but for just under twenty grand and such low mileage, might it be an alternative?