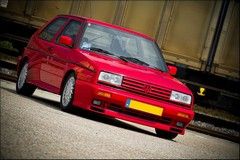 Let's face it, even if the prices we saw at the Bonhams Goodwood auction for road-going Group B homologation cars were a little over-the-odds, the truth is that not only are these cars out of reach of most enthusiasts but running one on a regular basis would be a bit challenging even if they weren't. But what about other rally homologation cars? Recently added to our classifieds is
this Golf Rallye G60 Synchro
.
In order to compete in the World Rally Championship VW built the required run of 5,000 of these cars at their Brussels plant with four-wheel-drive and a 160bhp, 1763cc supercharged version of their ubiquitous 1781cc single cam engine. The cost new was approximately double what you'd have paid back then for a boggo GTi 8V.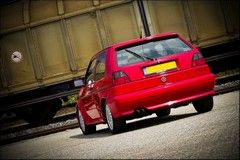 Of course if you think back to late Eighties and early Nineties rallying, cars like the Celica GT4, Delta Integrale, and Sierra/Escort Cosworth spring to mind. That the G60 Rallye doesn't is a reliable barometer as to the level of success it enjoyed...
But that alone shouldn't put you off. Looking at one today, it's not what you'd call a 'pretty' car, but if boxy be-flared low-volume Eighties cars do it for you, then one of these could make some sense. Ok, they're all LHD but only 100 were reportedly brought onto the UK originally so they're up there in terms of exclusivity. Value-wise it looks like these cars might have crept up a little in recent years. I recall a similarly good G60 selling in the UK for £7500 in 2008.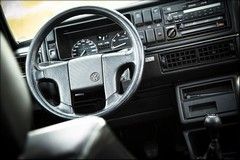 This one is in the Netherlands and is only for sale so that the owner can fund a rather special E30 M3 he's working on. It was imported from Germany to the Netherlands in 1998 and the previous owner (who was heavily involved in specialist VWs and, we're told, owned 15 of them) bought it in 2000 and kept it until about a year ago, at which point the vendor acquired it and carried out a lot of work including the vital supercharger service.Apparently the car still features the correct skid-plate underneath and the correct air-ducts in the bumper (both of which, he claims, tend to go missing), as well as the original radio and 'unleaded fuel only' sticker on the dash.
The asking price is 11,500 Euros, which works out to a shade over £10,000 at current exchange rates and seems like a good starting point. Although it's hard to directly compare it to anything else, fast Golfs will always be cool and in-demand. (...even ones with rectangular headlamps).