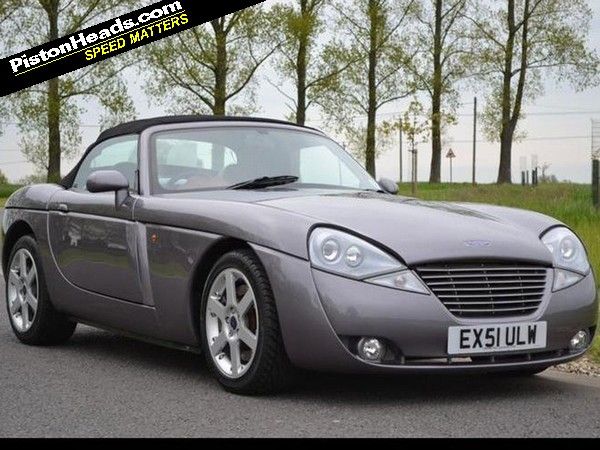 Remember the Jensen SV8? Back in the early 2000s, it was the latest in a long line of sports cars out to rejuvenate a once-great British marque. The recipe was simple: mate an off-the-shelf V8 (this one from a Mustang) with some bold styling, throw some money at the chassis, and, hey presto, there's your Boxster beater.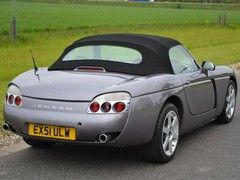 Attractive? No. Brutally fast? Oh yes
Unfortunately, and perhaps predictably, the venture failed. Jensen's investors pumped £10 million into the project but only ten examples of the SV8 were actually produced at the factory. Another batch was completed by SV Automotive, but in total, fewer than 40 were ever produced.
So, another doomed British sports car story, then, a bit like the MG SV. Revive an old name and its heritage, unveil a dramatic car at its home motor show, announce future plans to further boost excitement and imply stability... it's a familiar sequence of events.
A decade of progress has only further exposed the flaws in the SV8 package. Its appearance is certainly striking, and may have been modern at the time, but even the most optimistic of its fans could hardly call the Jensen a classic beauty. Which is a shame, given the brutal elegance of the Interceptor. The grey paint probably doesn't help, and the downward curves of the nose just makes it look depressed. And whoever thought the aluminium surrounds for the rear light clusters were a wise aesthetic decision?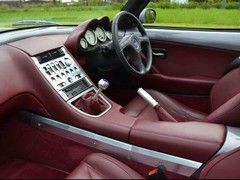 Interior has barely been sat in
Yet this Jensen holds a certain quirky appeal in the same way a Morgan Plus 8 might. You could cruise along with the roof down with the V8 rumble echoing out, safe in the knowledge you'll never see another SV8 coming the other way.
Contemporary tests even suggest that it wasn't a bad steer, noting a refreshing lack of scuttle shake and excellent steering. It'll be no Caterham, granted, but the SV8 may be more competent than expected.
Any SV8 is rare, but this particular example is one of the original Jensen-made cars, putting it in hen's teeth territory. Presumably this will secure its future value, which may help in getting past the purchase price.
Even allowing for its paltry mileage, £35,000 is a lot of money to throw at a weekend toy, particularly when the SV cars cost that new. You want a roadster built in Britain with stop-and-stare styling? Try a Morgan 3-Wheeler. All manner of V8-engined TVRs can be had for this money, too. And of course the Lotus and Caterham options are always there.
But the SV8 is something unique, bold and intriguing, for which it should be celebrated. Sure, there are cars objectively more capable, but who buys an automotive toy purely on the basis of ability?  And if £35,000 seems expensive, think of the development costs; a £10 million investment to make ten cars means each SV8 cost Jensen £1 million. £35,000? Bargain.

---
JENSEN SV8
Engine: 4601cc, V8
Transmission: Five-speed manual, RWD
Power (hp): 325@6,000rpm
Torque (lb ft): 322@4,750rpm
MPG: 24
CO2: 408g/km
First registered: 2001
Recorded mileage: 728
Price new: £34,650 (SV Automotive cars)
Yours for: £34,950

---
See the original advert here