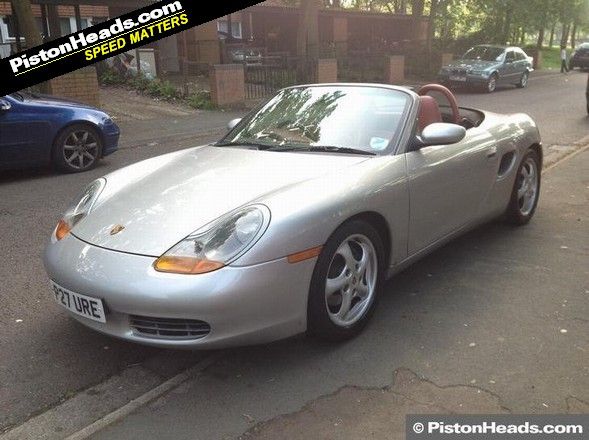 Ladies and gentlemen it has arrived,
the three grand Porsche Boxster
. Or at least the three grand Porsche Boxster with service history and a valid MoT - no doubt there have been cheaper Boxsters before with a murky Cat D history or other serious and obvious flaws. Like
a knackered engine
...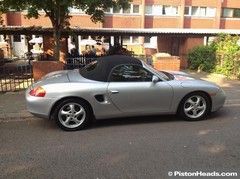 But this car looks to us to be pretty. The pictures and description of it aren't the best, but from what we can gather it looks to be a fairly straight, tidy and clean example both inside and out. Though there might just be some sort of horror lurking in that service history file - the early 2.5 Boxsters aren't blessed with the most robust of motors, with rear main oil seals going, dodgy ignition coils and even the occasional intermediate shaft failure.
It's a car you should go in with your eyes wide open, then, but as long as its service history suggests it's been looked after well during its 93,000-mile life it might just be a bargains. Especially since, with a bit of haggling and the sacrificing of that private plate, you might just get your hands on it for a number starting with a two.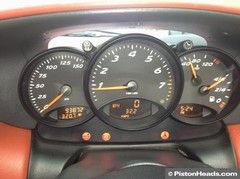 There's
an even cheaper Boxster currently in the PH classifieds
, too, but that suffers from a) being an auto and b) having done 150,000 miles. Plus a couple of tears in the soft top.
Of course, if you've got a 986-gen Boxster-shaped itch that only the extra power of the 255hp 3.2-litre S you'll need to fork out a little extra moolah, but you can still get into one for little more than £6K as this V-plate Boxster S shows.
Judging by the recent weather, we may have already had the best of the summer, but the Boxster has a perfectly decent roof and, for the brave buyer, this might well be the cheapest way into the ownership of a (relatively) modern Porsche.
Whetted your appetite for a used Porsche Boxster? Why not check out the other options in the PH classifieds?
---
PORSCHE BOXSTER
Engine:2,480cc flat-6
Transmission:5-speed manual, rear-wheel drive
Power (hp):204@6,000rpm
Torque (lb ft):177@5,000rpm*
MPG: 31.7
CO2: 214g/km
First registered:1996
Recorded mileage: 93,872
Price new: £33,950
Yours for: £3,250 ono