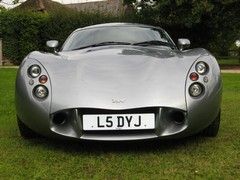 Back in the good old days when TVR was an active car manufacturer and its T400-Rs were racing in the British GT championship as well as endurance events, four road cars were built for homologation purposes.
Three of those cars were intended to run a supercharged version of the 4.0 straight-six with sequential gearboxes (we're reliably informed that sadly, said gearboxes never worked properly), whilst the remaining car was built to its intended 4.2 litre atmospheric spec' and was sold as the only T440-R customer car.
It might look at a glance like a Tuscan, but aside from the gearbox (which is the same) not one part is interchangeable between the two cars, and the entire body is built from carbon fibre. The full specification is impressive and can be read here on the vendor's website.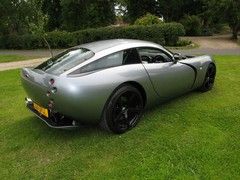 'Although with correct maintenance the straight six TVR engine is capable of covering a fair distance, earlier examples weren't without the odd issue and this one has been given a rebuild at the factory and features the later type camshafts and followers. That said if the asking price is met then the vendors (ex-factory TVR race engineers) will supply the car with a fresh engine rebuild for peace of mind, which brings us to the vulgar topic of coin...'
The asking price is £150,000. Despite the racing car connections and claimed near-200mph top speed, there's no denying that it's a lot of money for a TVR. You could buy this monster if you wanted a 200mph Trevor, add this to your stable for some on-track action, and still have a hefty chunk of change left over.
But then again with the collector and specialist car market booming perhaps this unique, carbon-bodied GT might prove to be a sound investment? It's not like you're going to find another one...