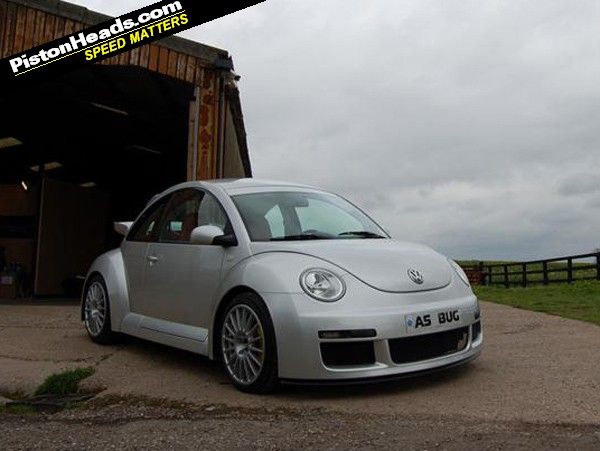 The 'new' VW Beetle was never intended as a performance car; it was all about cute styling, flower vases and pastel colours. To say the RSI therefore came as something of a shock is rather an understatement.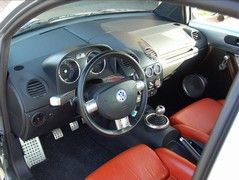 Damn, the vase has gone...
It was conceived as a test bed for the Mk4 Golf R32, running the same 3.2-litre V6 and Haldex 4WD. Like the Golf that followed, it was also rather chunkier than many expected; most kerbweight estimates put it around 1,500kg. So whilst that V6 growl and fairly swift 6.4-second 0-62mph time (thank the 4WD traction for that) may suggest decent performance, it probably won't feel
that
quick.
But even though it probably isn't the last word in performance in dynamics, you've got to admire VW for productionising what was essentially a development vehicle. That it was so out of kilter with the rest of the Beetle range only increases the oddity appeal. A bit like the Passat W8, in fact.
To these eyes, the Beetle RSI just looks fab. That's probably a controversial statement, but the swollen wings, unique bumpers and gorgeous OZ wheels lend it some real quasi-racer attitude. The rear is still a bit blobby and the spoiler sits rather awkwardly atop the boot, but there's just something intangibly appealing about it.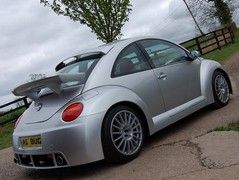 The definitive Marmite car?
The interior of this very low-mileage RSI has some brilliant details also. Oil temp and pressure gauges always get the PH thumbs-up, and have you ever seen a cooler window winder? The vase appears to have been deleted...
As for driving an RSI, Riggers described it as 'point-blank awesome' when he had a go in 2011. That's not a view that's too widely shared, but surely it can't be too different to the R32 it spawned?
You can't make a rational case for the VW Beetle RSI; you either love it (guilty as charged) or it'll be one of the most hideous things you've seen on four wheels. As mentioned, the RSI was a basis for the Golf R32 which, as you may expect, is a far more affordable way of getting your VW V6 Haldex fix. The cheapest Mk4 R32s are nearly 25 per cent of the Beetle's price, and even the most expensive Mk5s undercut this 2002 RSI. The same is true of Mk1 TT V6s.
But if you want an RSI, this looks superb. The brakes are upgraded with Porsche six-pot calipers, it's apparently been professionally detailed and seems properly well cared for. Get the original plate on and it'll be perfect.
---
VOLKSWAGEN BEETLE RSI
Engine: 3,189cc V6
Transmission: 6-speed manual, 4WD
Power (hp): 224@6,200rpm
Torque (lb ft): 236@2,000rpm
MPG: 23.7
CO2: 286g/km
Recorded mileage: 32,000
First registered: 2002
Price new: c.£45,000
Yours for: £19,000
See the original ad here