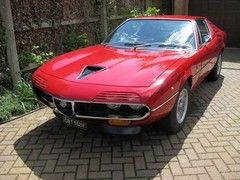 Following on from our look at
the Citroen SM
, here's Alfa Romeo's take on a seventies coupe. Like its French cousin it's exotic, sounds sublime, is good to look at, will make you regret the day you bought it if it goes wrong, is probably a bad idea, and I've always wanted one.
This particular Montreal has the added draw of having once been owned by Yasmin LeBon (to all PHers who are under 35, she's a stunning former model who married Duran Duran frontman Simon LeBon. If you don't know who Duran Duran were, you're not missing much...). Described by its current owner as being 'in condition one, but not concours' this car appears to be completely original, having had no major work done to it, just the correct maintenance.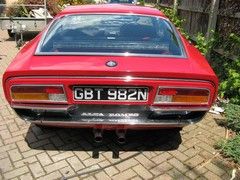 The engine in these things is just a work of art. It's a high-winding 2.6 litre dry-sump, race-bred, aluminium V8 based on the 2.0 version slotted into the beastie featured in the video below. Lovely, isn't it? Of course you'd need to keep right on top of this thing in terms of servicing, and woe betide if you ever need any major engine work. Having said that, the current owner is so confident of his Montreal, if it doesn't sell he's going to drive it to Finland this summer. No, seriously...
A stunning thing to look at (those louvres over the headlights and the Miura-style doors...), it's a car that should lock your head and heart in mortal combat - but shouldn't all (older) Alfas? The asking price is probably about right for a top-notch road-going example, although if exotic Seventies coupes are your thing you might find it hard to swallow that values seem to be greater than for the Citroen SM.