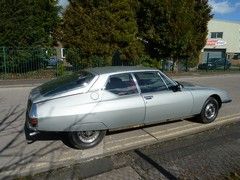 I was a pretty ordinary 15 year old. I had posters of Ferraris and Lamborghinis on my wall, liked playing football and riding my BMX, and was struggling to come to terms with puberty and girls. At least I eventually came to terms with the puberty...
Like most 15 year olds, the prospect of being taken for a spin in a Citroen was as appealing as the inevitable fall-out which usually followed parents evening, but when a Citroen SM rolled into our driveway I was speechless. This car (to me at least) looked stunning. Not classically beautiful perhaps, but stunning nonetheless. Then I was told that it had a Maserati engine and a suspension system which was fundamentally similar to the 'active' systems that Formula One cars were using at the time. I wanted in.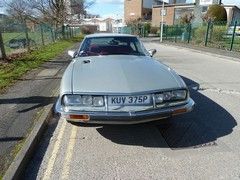 What followed next was a motoring epiphany. The sound, the razor-sharp two-turn lock-to-lock steering, the funky interior with its oval steering wheel and gauges, the way it felt on the road...were all a million miles away from what I'd expected. How on earth could something this size feel so crisp and change direction so swiftly? I quickly developed an intense love (perversion?) for these things.
I spotted this one on eBay recently and it sounded good. All the iffy bits (body work, cam chains and tensioners etc...) have been seen to by a specialist. But don't let that make you think that it'll be plain sailing owning one of these machines. This one is a fuel injection model, so to get to any of the spark plugs you'll need to remove most of the injection kit, and don't even ask about how to remove the battery. We haven't even covered the hydropneumatic suspension system yet either with its pumps, pulleys and spheres, or the brake 'button' (...not 'pedal').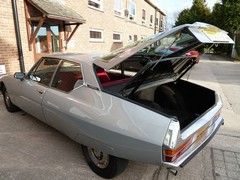 A nineteen grand asking price is top-end money for an SM and we'd imagine that it would go for somewhat less than that. So if you want something from the Seventies which is truly different and decades ahead of its time (BMW have only recently cottoned-on to the 'adaptive' swivelling headlights for example), this could be just what you're looking for.
You'd be mad to consider such a car, which is exactly why I want one.