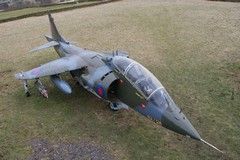 Fancy having your own ex-RAF Harrier Jump Jet? Of course you do. And what if we said that you could buy one for the price of a moderately specified new 911? You'd probably be on the phone trying to arrange the finance.
Well, get ready to apply for that loan, or remortgage the semi, because Harrier XW269, a rare two-seat first-generation trainer is currently up for grabs on a certain well-known auction site for a starting bid of £69,999.
But before you start envisaging a rather more rapid VTOL daily commute, we should warn you that this is a static display aircraft that was last flown in 1997.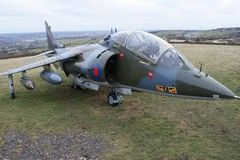 It does have quite a lot of its original kit, however, including a front cockpit that's around 80 per cent complete, and which retains its Martin Baker ejection seat. It has also had a Full Repaint in early Harrier 3 tone camouflage finish with 4 Squadron Markings (the squadron with which it originally served).
We reckon that this would make a cracking lawn ornament, (we doubt you'd have a coffee table large enough to display it). But if you fancy getting your hands on a Harrier we suggest you get a bid in soon - The vendor tells us this is the only two seat example for sale anywhere in the World. He's also had interest from the BBC and Sky News - so it might even be sold by now...