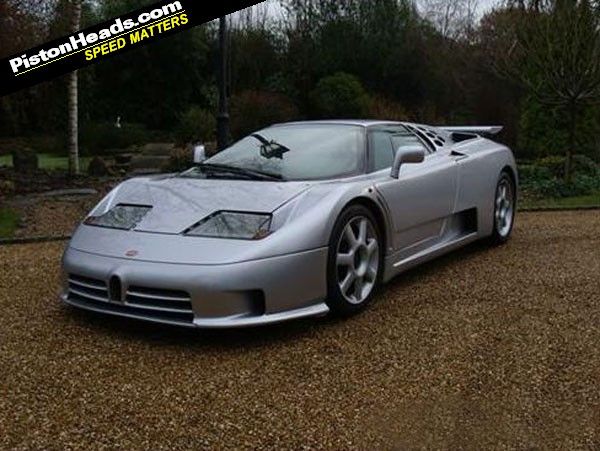 Alright, this isn't exactly typical YKYWT fare in the way a £4K
Honda S2000
or a £2K
Alfa 33 4WD
might be. A
Bugatti EB110 SS
with an asking price of £415,000 is unlikely to ever be an impulse purchase, spurred on by friendly goading from an internet forum. However, should your Christmas bonus be exceptionally, obscenely large this year, an EB110 can be warranted on solid financial foundations. Should be quite good fun too...
It's got the rarity factor on its side for starters. Just 31 SS versions of the EB110 are believed to have left the Bugatti factory, alongside 94 GT models. Ferrari's run of 349 F50s looks like mass production by comparison. Yet every single F50 for sale in the PH Classifieds is costlier than the Bugatti.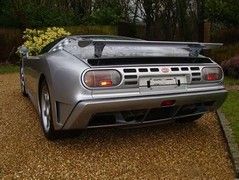 A safer place for your money than a Veyron?
With the Veyron and its SS flagship seizing world records since 2005, attention has been diverted from the EB110 for many years now. This is despite the fact the SS recipe had already produced spectacular results in the Veyron's predecessor.
Of course, the EB110 was already an undeniably quick car; a 3.5-litre quad-turbocharged V12 powered all four wheels and 1,618kg with 560hp. To make an EB110 SS, weight was taken out and power was added in; 1,618kg became 1,488kg and 560hp became 611hp. The former was due to carbon fibre replacing aluminium for some body panels, magnesium being used for the wheels and the deletion of some equipment. The power gains came courtesy of bigger injectors and two fewer catalysts combined with a revised ECU and new exhaust.
The cumulative effect of these modifications was a claimed 0-62mph time of 3.3 seconds and a top speed of 220.6mph. This latter figure made the EB110 briefly the fastest road car in the world in the early 1990s, besting the Jaguar XJ220 but soon to be outclassed by the McLaren F1.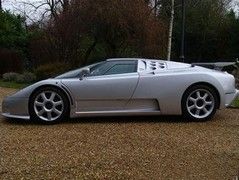 Less weight, more power and rare too
So why isn't this example being drooled over by collectors, desperate to bolster their fleet with another appreciating asset? It would appear to be that great intangible of desirability. Whilst the McLaren retains its no-compromise supercar status and the F50 hails from perhaps the most famous supercar maker of them all, the EB110 simply hasn't been as fondly remembered. Are some maybe put off by its rather pugnacious appearance? Or perhaps all EB110s really have been overshadowed by the Veyron?
But let's not get carried away; this is still a car with a value approaching half a million pounds and, if subjective desirability is still a discussion point, that's still twice as much as an XJ220. It's not exactly bottom-rung supercar money.
On the flip side, look at the SS this way: it's a 600hp, 220mph V12 Italian supercar produced in tiny numbers that is only likely to increase in value. And that is more than can be said for its Veyron successor, which hasn't proved impervious to the ravages of depreciation. It's still many miles from bargain supercar territory (and even the EB110) but this 2010 Veyron has shed nearly 12 per cent of its value over just 1,680 miles. A snip at £745,000.

---
Bugatti EB110 SS (1993)
Price: £415,000
Why you should: A 90s supercar that can still hold its own today and could increase in value.
Why you shouldn't: It is nearly half a million quid; how long until a Veyron is available for that? Also, F40s are available now for less, and they're appreciating too...
See the original ad here