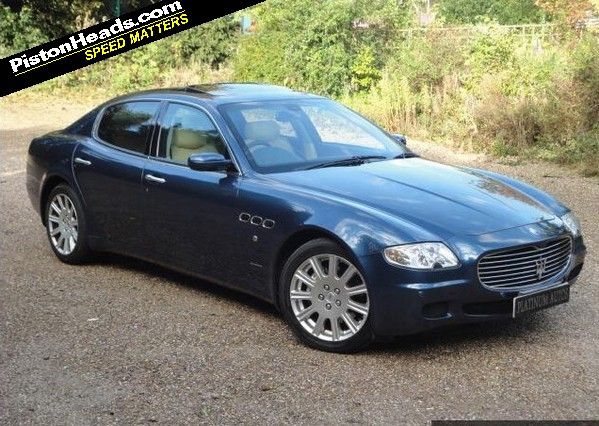 Maserati's growth continues apace. Its recently announced expansion plans include the Levante SUV (based on the Kubang concept) and a
new Ghibli
to rival the BMW 5 Series. In 2011, it got serious with the
GranTurismo MC Stradale
. And the
GranCabrio
is still the most beautiful four-seat cabrio you can buy.
The Quattroporte was introduced in 2004 and built on the success of the 3200 and 4200 coupes, offering as much style and performance in a more practical four-door package. It has been a huge success for Maserati, so much so that the next Quattroporte still draws heavily on the design cues of the current car.
Perfect for starting a wedding hire car business
Its resurgence has seen Maserati now considered a true luxury car player, a rival to Bentley and Aston Martin. While still 'quirky', the cars are not tainted by reliability woes in the same way as opting for a Biturbo could have been in the 1980s.
But unfavourable reputations take a long time to shake off, so is a high mileage Quattroporte something to fear?
There's no doubt that a combination of the Quattroporte's styling, its V8 engine and a £14,995 price are hugely alluring at face value. To look at, the Maserati saloon remains well-proportioned and as handsome as ever, aided by this example's classy Sebring Blue paint and cream leather interior.
Moreover, it all still looks in fantastic condition, the paintwork still glossy externally and the interior seemingly unblemished. Put simply, this Quattroporte wears its 88,000 miles well cosmetically.
Life is better with a Maserati clock
Mechanically? Well the reassurance of a full service history is there, although clearly this will need investigating fully. That V8 engine, whilst a hugely engaging and exciting unit, is likely to have endured an easier life installed in a luxury saloon than in a GranSport coupe.
The largest source of potential ruin comes courtesy of the Quattroporte's gearbox. Dubbed DuoSelect by Maserati, it's an automated manual that has its problems. Even new, gearchanges were clunky and slow, but Maserati persisted for three years until 2007 when it introduced a full auto. It soon became the only transmission option, but prices start at £22,000 for an automatic Quattroporte.
Some DuoSelect-equipped cars have been known to chomp through clutches and whole transmissions, and this likelihood will only have increased with age. Having said that, a test drive should reveal any latent issues, especially if changes are particularly obstinate or if any slipping occurs.
Of course, like with any other prospective luxury purchase, check everything electrical works and be prepared for an mpg figure in the teens. And ensure a suitable budget for servicing a Ferrari-derived V8.
But overall it's easy to see the logic behind a modern Maserati with higher than average mileage. Confidence has been instilled in the minds of buyers where once scepticism ruled. Plumping for a £15,000 Quattroporte is undoubtedly a brave move, but perhaps not one as reckless as it would have been in the not-so-distant past.
Maserati Quattroporte (2004)
Price: £14,995
Why you should: A new Quattroporte is still £100k+, and it arguably looks better than the upcoming replacement.
Why you shouldn't: That F1-style gearbox feels very old-tech now.
See the original advert here