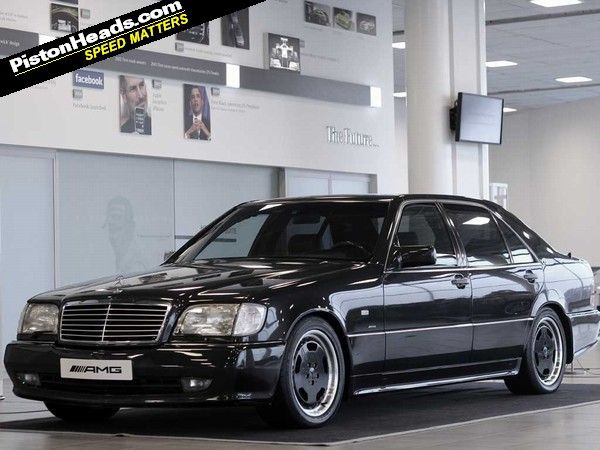 I always associate the 140-series S-Class with the hefty former German Chancellor Helmut Kohl. I'm not sure where the timeline intersects but I like to imagine he used his status to influence the design of the new S-Class and ensure its generous stature was in proportion to his own so as to avoid the embarrassment of not being able to squeeze into a regular limo while attempting to escape a handbagging from Mrs Thatcher at some European conference or other. Like Kohl himself, the W140 loomed over its contemporaries to such an extent as to look totally out of proportion, and no S-Class before or since has so perfectly embodied the Teutonic love of imposing symbols of might and technical superiority.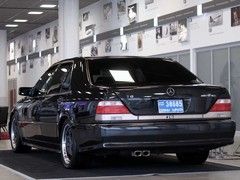 Well-travelled S70 first sold to Japan
So if you're going to ask AMG to do its thing with the 140 you're going to need an engine of equally Kohl-like proportions. Which is exactly what this one has got. Now, as someone who's been around the Mercedes block a few times, stumbling across an AMG I'd never heard of was exciting, but also a little upsetting. Nothing like having your supposed know-it-all status knocked out from under you by a 7.0-litre S-Class, eh?
But here it is. Yes, that's a 140 S-Class LWB on period colour-coded AMG split rims. Yes, that's a V12 badge on the C-pillar. And, yes, it's a '70' on the back, which in those days before downsizing smoke and mirrors equates to a fulsome seven litres and over 500hp of AMG goodness. Why didn't I know about this monster?
Well, in my defence the blurb accompanying the car - currently on display at Mercedes-Benz World in Brooklands - says just 112 were built between 1996 and 1998, all to special order. Based on long-wheelbase S600s (known as 600 SELs until 1993) and hence a V140, not a W140 (he's still got it!), the S70s use a slightly earlier version of the 7.3 that featured in later cars and the SLs and Zondas we mentioned just last week.Apparently some S73 versions did also get made. And now we have an AMG A-Class...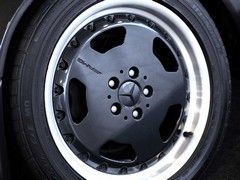 Colour-coded AMG split-rims - einfach klasse!
525hp and 186mph is enough to be going on with though, even in a barge as mighty in stature as the old S-Class. And an engine of that displacement is never going to leave you feeling ashamed if it comes to a mine's bigger than yours contest. As you'd expect it's fully kitted out too, with reclining rear seats, full Nappa leather (many posh cows were harmed in the making of this car) and the ultimate in pluto barge presence.
The only downside, other than not being able to hear that V12 through the double-glazed windows? It's not actually for sale. So even if you do know you want to you can't. You can, however, have this 1999 S600L for a smidge under £8K instead. Wonder if the AMG boys still have the tooling to bore it out?

---
MERCEDES-BENZ S70 AMG
Price: Not actually for sale, unfortunately
Why you should: The ultimate in pluto-barge one-upmanship
Why you shouldn't: Rare and this one ain't on the market