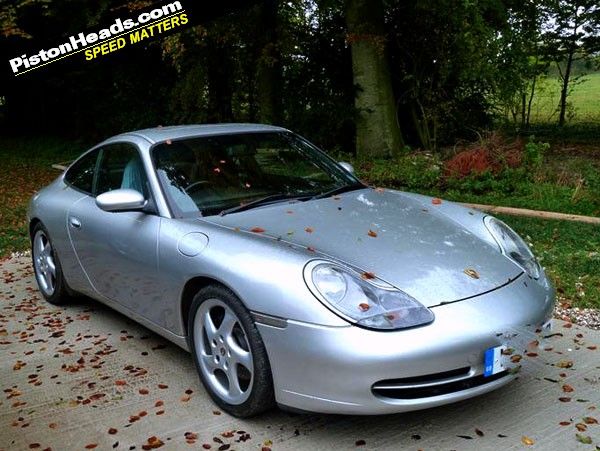 'Oh look, a cheap Porsche'. If you're a seasoned PHer, you'll have heard that phrase before, and you'll be the first to counter it with the response 'There's no such thing.' And you're probably right – but still, if you're feeling brave, these two 911s could be hard to resist. Both come from the 996 era, both are manual Carreras – and both are priced at under £10,000. Which makes them something of a bargain. In fact, as people inevitably cotton on to the price for which early 996s are selling these days, this might be your last chance to get hold of one for this sort of price.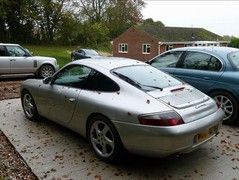 Genuine Porsche accessory leaves. Maybe.
First up, there's
this silver example
. It's a MY2000 model, which means it gets the 300hp 3.4-litre engine, and the owner says it's been priced to reflect the mileage. At 102,000 miles, it's on the high side for a 2000 car, but in the grand scheme of things not stratospheric. The other reason for the low price, we'd suggest, is the claim of 'part service history' – a sign that the attention paid to the car's upkeep might not have been as strenuous as it could have.
That said, it is finished in an inoffensive silver-and-black colour scheme, and if the pictures are anything to go by, there doesn't appear to be an awful lot wrong with it, apart from the fact that it seems to have been parked under a tree for a couple of weeks. The seller claims it's in above average condition, and it's had a recent new radiator.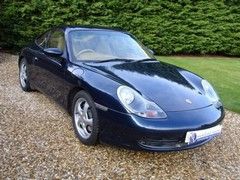 Blue and yellow. Not a classic colour combo...
If that doesn't float your boat, though, how's about one with even lower mileage?
This 1998 example
has done just 90,000 miles, which is a pretty respectable figure for a 15-year-old car. The rather yellow leather interior ('Savannah', in Porsche speak) might be one reason for its price, but we'd suspect that's got more to do with the conspicuous lack of any mention of service history in the advert. It may well have some, but you'd think a trader would be keen to include it in the advert if it did, so we'd put money on that not being the case. Then there's the matter of that slightly awkward-looking aftermarket exhaust... 
Still, if you're feeling brave enough to buy a 996 with questionable history, either of these cars could represent one of the best deals on a 911 going. We stress the emphasis on the word 'could', of course. Tempted?

---
PORSCHE 911 (996) CARRERA
Engine: 3,387cc flat-6
Transmission: 6-speed manual
Power (hp): 300@6,800rpm
Torque (lb ft): 258@4,600rpm
MPG: 31.4mpg (combined)
CO2: N/A
First Registered: 2000 / 1998
Recorded Mileage: 102,000 / 90,000
Price new: £64,800
Yours for: £9,850 / £9,999

---