If we accept the onward march of the super SUV has rendered the fast estate car an irrelevance, then the Audi RS6 Avant Performance is about as defiant a departure from the stage as you can get. This isn't leaving the pub in a festering sulk. It's kicking a table full of glasses over, shouting "screw the lot of you!" and stomping out. Before burning the place to the ground. And then bulldozing the ruins.
Mega performance estates were always something of a niche product anyway, one Audi can arguably lay claim to defining with the RS2 and the various RS4s and 6s that followed. So it's probably appropriate that the RS6 Performance will likely stand as one of the last of the breed, alongside the pending E63 wagon.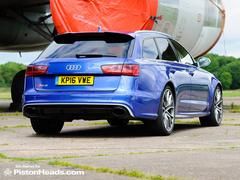 Pretty discreet as 605hp goes
The RS6 Avant has always been one of those 'resistance is futile' kind of cars, sheer force of personality able to win over the most ardent of Audi agnostics. This one, with added capitalised Performance, the more so. For the record that badge and the £7K premium over a standard RS6 Avant gets you another 45hp for a total of 605hp, an extra 500rpm to enjoy your 516lb ft torque peak and an overboosted 553lb ft when even that isn't sufficient. A standard Sport exhaust (£1,000 extra usually), Audi Drive Select button on the flat-bottomed wheel, 21-inch rims and understated titanium contrast trim set the package off very nicely indeed, even if the bottom line on our test car tips over into six figures.
Uber-what-prestige?
Before we go there dwell for a moment on that lead image. Audi design can be accused of being generic. But just look how well the basic A6 Avant shape responds to some typically subtle RS enhancements. As in there aren't bonnet scoops, stick-on aero or lurid stripes, the slightly tacky 'Quattro' legend on the lower part of the grille as extrovert as it gets. But nobody is left in any doubt, even those who wouldn't know the difference between RS and TDI.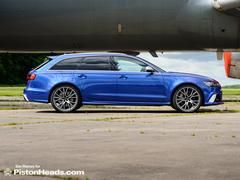 Who needs an SUV when this looks so good?
Indeed your lazily stereotyped tailgating Audi driver is going to find the RS6 Performance a little disappointing. Mainly because the uberholprestige is so evident in the mirrors nobody dare linger in your path. To the extent you can mooch along at cruise controlled, camera friendly speed and enjoy the kind of deferential lane clearing ability usually reserved for those with a police escort.
Good to get those cliches out of the way early and be able to talk about how it drives, because this thing is absolutely mega. The 'good fast Audi, bad fast Audi' conundrum and the RS6's status as one of the former was addressed by Chris Harris when he first drove the standard car for us. And explored further in his stealth grey long-termer.
What's nice about the RS6 Performance is that it displays a trait rarely seen in mainstream Audis, namely character. Now in its third generation and with a heritage going back to that original RS2, the RS6 has some history to draw upon. So the fact it is fast but a little inert, has a distinctively turbocharged power delivery - lag and all - and is comfortably the fastest of its type while looking little more than a power-suited A6 TDI is all staying true to its roots.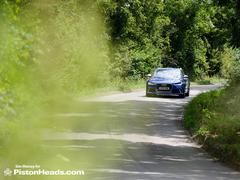 Just an A6 Avant from here...
That a commendable number of RS6 owners seem happy to spec their cars in understated colours and exercise their right to debadge them only goes to show they are generally bought by good sorts, who understand the amusement value of a family estate that goes like the Bloodhound land speed record car, come rain or shine.
If you're not familiar with RS Audis, the first encounter with the Performance will likely confirm all prejudices. The bellowing start-up, the sickly sweet steering weighting, the sense the springs haven't had their transport blocks removed and the alarmingly punchy acceleration all seem to conform to type. But, as previously stated, fiddle around with the settings and a degree of (relative) subtlety is there.
As part of the £11,500 Dynamic Package Plus our test car was fitted with the optional RS Sport Suspension, featuring the diagonally linked DRC dampers first seen on the original C5 RS6. A £1,000 standalone option, it replaces the standard air suspension yet to be seen on an Audi press car.
The DRC suspension's honesty to RS6 heritage and surprising compliance once dialled back into Comfort mode would explain that to a degree, plus its ability to contain 605hp and two tonnes of monster estate car is entirely commendable. Try the Dynamic mode for a taste of old-school Audi suspension if you will; an Individual combination of relaxed suspension with full aggro engine, diff and gearbox seems to work well for British roads.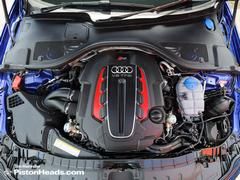 ... certainly not from here!
A pity then they simply feel too small to contain the frankly rampant performance. With a relatively modest 4.0-litre capacity the V8 leans hard on its turbos to deliver the truly dramatic end of its performance and you need revs and boost to really deliver on the promise. You can leave it in a higher gear to enjoy the sense of that swelling and then erupting or shift down via the paddles to have it on demand; when it comes the scenery blurring acceleration is frankly outrageous. It would be shocking in a supercar. That it comes in the surroundings of an estate just makes it even more ridiculous.
The noise is mighty, if perhaps not quite as thundering as the original C5 V8 twin-turbo and a little disappointing for coming from peashooter 'falsies' set back from the fatter exhaust trims in the bumper. And handling? The RS6 doesn't really do handling. Which isn't to say it's not fun to hustle along, just that its talents are more about warping distance between corners and the speeds out of them than enjoying nudging up against the limits. But you'd say the same about the rivals too. And the authority of knowing it'll do the same whatever the conditions under tyre remains true to the brand values.
Rein it in
The ceramic brakes that are also included in that Dynamic Package Plus are probably a good idea, given what they need to deal with. Saying that you often arrive at a corner wishing you'd got on them sooner and harder, the RS6 having that old-school turbocharged sense of running away with itself somewhat. Which adds a tantalising garnish of adrenaline on what's an otherwise typically polished performance.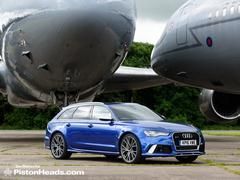 Some familiar fast Audi, but charming with it
Yes, it puts more emphasis on grip than playfulness. And, yes, the Dynamic Steering is as horrid as it is in any other application, especially in the overgeared and overweighted mode of the same name. But the RS6 simply bulldozes the niggles out of the way.
It looks brilliant. It appears sensible but goes like a madman. It's practical, luxurious, beautifully built and amusingly understated for the performance on offer. If previous experience is anything to go by - check out the £25K C6 V10 versions - it'll depreciate like a stone too.
A properly heroic car then. Anyone got a Cartman 'respect my authori-tah' meme to hand?

---
AUDI RS6 PERFORMANCE - SPECIFICATIONS
Engine: 3,993cc, V8 turbocharged
Transmission: 8-speed tiptronic, Quattro all-wheel drive
Power (hp): 605@6,100-6,900rpm
Torque (lb ft): 516@1,750-6,000rpm (553@2,500-5,500rpm on overboost)
0-62mph: 3.7sec
Top speed: 155mph (limited)
Weight: 1,950kg (EU unladen)
MPG: 29.4 (combined)
CO2: 223g/km
Price: £85,085 (£102,755 as tested comprising of £2,100 for Assistance pack, £9,375 for ceramic brakes, £750 for Audi hands-free boot opening system with Advanced key, £250 for Speed limit display, £810 for parking pack, £1,000 for RS Sport suspension plus with Dynamic Ride Control, £1,300 for Panoramic glass sunroof, £750 for Audi Connect and Audi Phone Box and £1,335 for on the road costs)