Even the biggest fans of the
- we'll count ourselves among them - would have to concede that it did have
. The throttle response was really quite poor, the +R mode super stiff, the seat set too high... while hugely likeable and capable, the FK2 Type R was not perfect.
Therefore this FK8 has quite a simple job. If it can address those flaws while retaining all that was good about the previous car - exciting turbo engine, fabulous gearbox, great track dynamics - then it could make a superb hot hatch.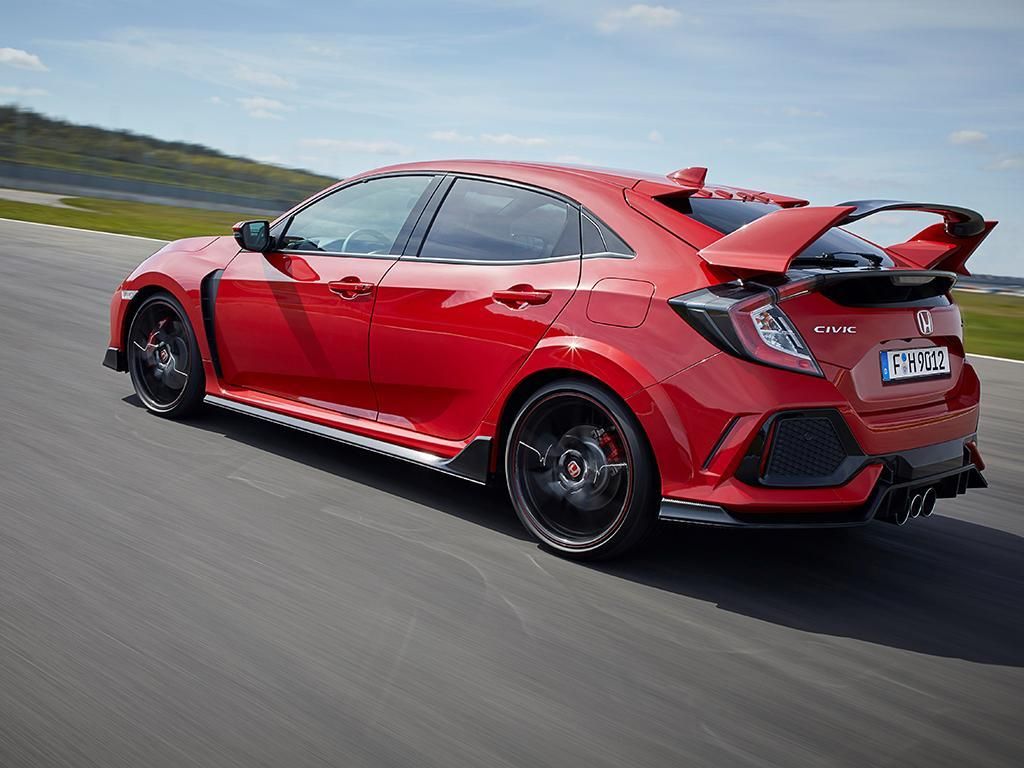 Oh yes, and the styling. To think we'd made it nearly 100 words without mentioning that. What do you reckon? While different than before, there are common themes from the last Type R: namely that there's still a lot going on, that the front end is very aggressive and that Honda claims all of it is for tangible aero benefit. All of it. In profile this is a very different vehicle - the wheelbase is increased by 95mm and the overall length by 165mm - but it's up for debate as to whether it's actually a good-looking car. Certainly you can see the styling putting people off before they've driven it.
And that's a real shame because, quite frankly, this Civic Type R is bloody fantastic to drive. It begins before you've even moved a metre in fact; shifting the fuel tank means the driver's hip point is now 50mm lower than before, making a huge difference to the driving position. You're low in the car now, secure and in the mood, rather than perched high as you were before. It means the relationship with the pedals and gearstick is better too, pushing through and reaching across rather than, well, down in the old car. The seats - now 10 per cent lighter - are again fantastic, comfortable and supportive and everything you would want in a hot hatch.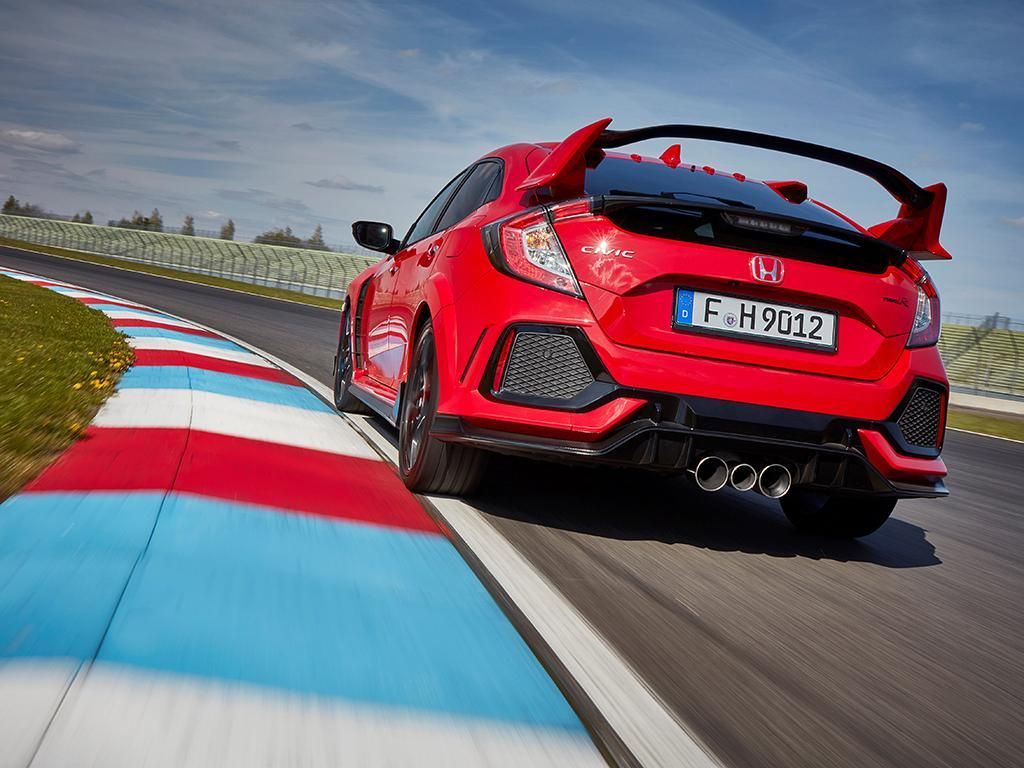 Start the Civic and the good news continues; those three pipes out back are not only functional (the middle pipe helps reduce boominess at speed too) but give the Civic a more purposeful noise. Essentially there's less turbo whoosh and more rasping four-cylinder once you're up to speed, which has to be seen as a worthwhile improvement. Sure, it's not suddenly a Spoon EK9 or one of the VTEC icons, but the noise does now at least add a little to the enjoyment rather than detract from it.
There are now three drive modes for the Civic Type R: Comfort, Sport and +R. The car defaults to Sport on start up, which feels between the old Comfort and +R mode. If anything, in fact, the longer wheelbase and multi-link rear axle - replacing the old torsion beam - have given the Type R better road manners than before. It rides more plushly around town, even in the Sport mode, and is hushed at motorway speeds. Even on a derestricted autobahn in fact, it's quiet, composed and super stable.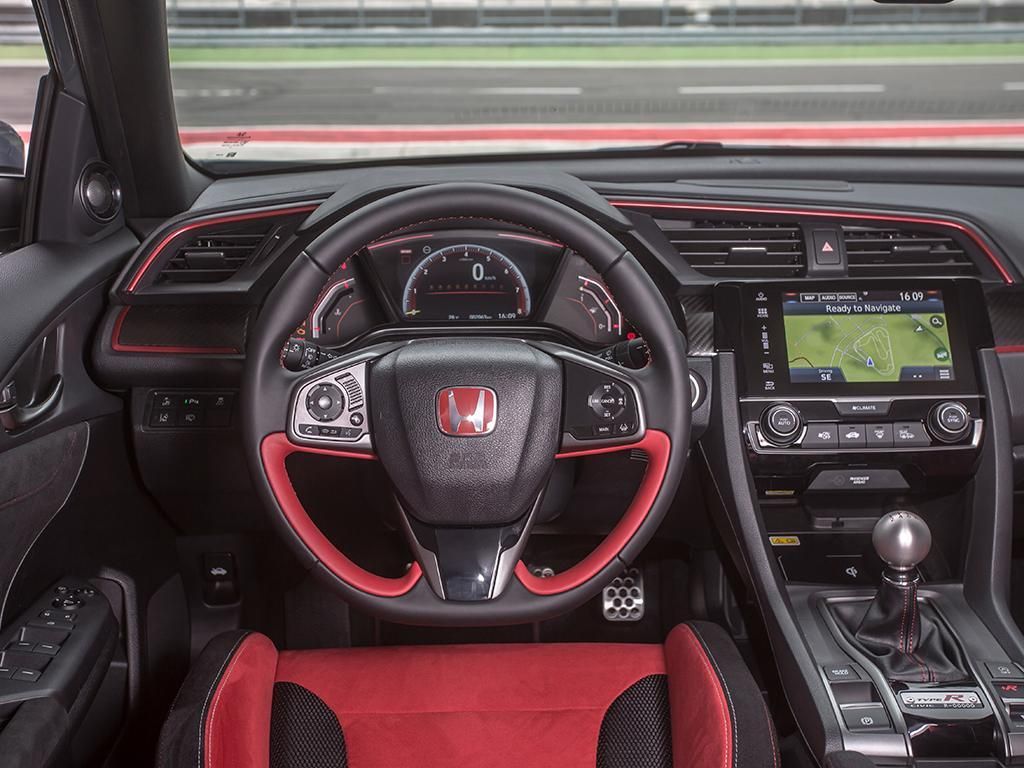 However, there are some initial problems on the road too. More driving modes means more steering modes means, frankly, more disappointment. Steering has never been a Civic Type R strong point and the same is true here. A variable ratio has been added, which doesn't seem to get in the way, with the bigger issues being the artificial weight and general numbness. With no individual mode either, you can't have the Comfort steering - which feels the least obstructive - with the sharper throttle response or tighter dampers, and that feels like a missed opportunity.
And then there's the rev-match. Yes, it works very well and, yes, it's handy for those people who can't heel-and-toe. However not only is the car really rewarding to master your own downshifts on, but the rev-match can't be disabled on the move. The idea of stopping a car, going into a menu, and then a sub-menu, to turn off rev-matching is irritating; in practice it's even more of a pain. Leave it off and revel in a fabulous gearshift, much improved throttle response (a single-mass flywheel has replaced the dual-mass one) and an excellently judged brake pedal. Apparently though, both the steering and the rev-match technology have been introduced through customer demand...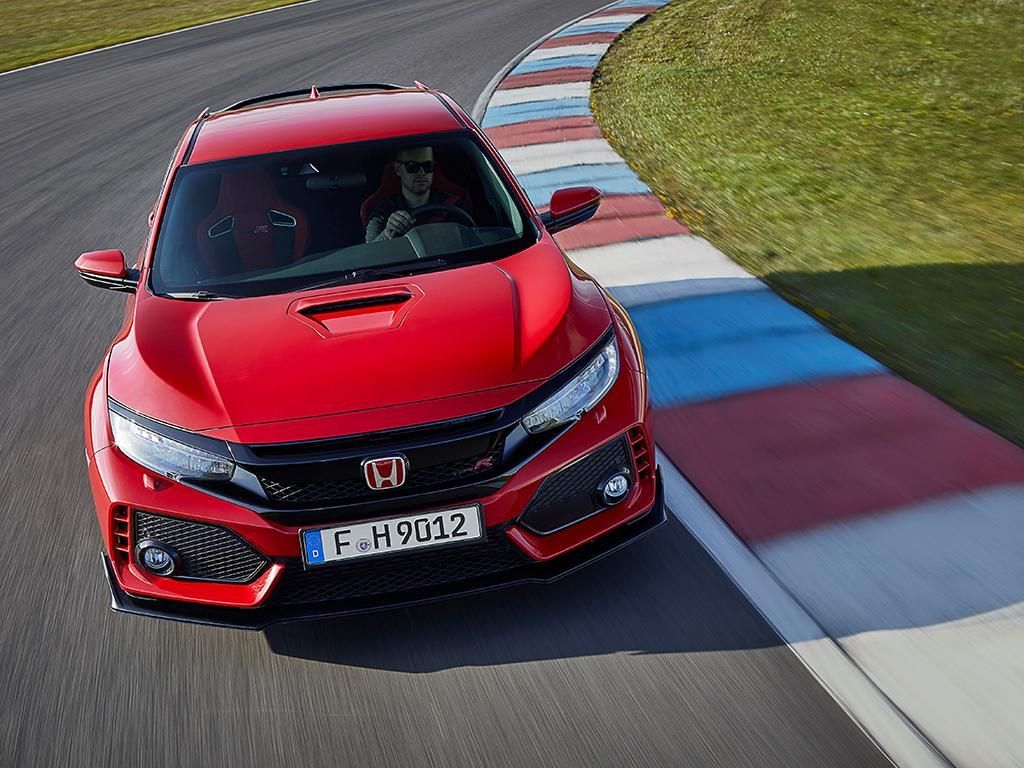 Fortunately those two are the only blots, as this car has retained that frantic, ceaseless intensity of the previous Type R. It always feels fast - assisted now by shorter ratios - eggs you on into ever earlier throttle applications and gives you so much confidence through the brake pedal, grip and traction. It's a focused, exciting, thrilling road car, albeit with a more liveable side than before as well.
And on track? It's arguably even more impressive. The engine's improved willingness to chase 7,000rpm, that improved driving position, and the additional stability from the new rear axle; all contribute to making a very good track car even better still. On circuit it still feels rapid and unflappably stable too. In fact, as before, the weakest link - beyond the driver, of course - are the Continental SportContact 6 tyres. They're very good, though lacking the ultimate purchase and resistance to understeer of something like a Michelin Pilot Sport Cup 2. There's a reason why that tyre is used on the Megane Trophy-R, Golf GTI Clubsport S and others...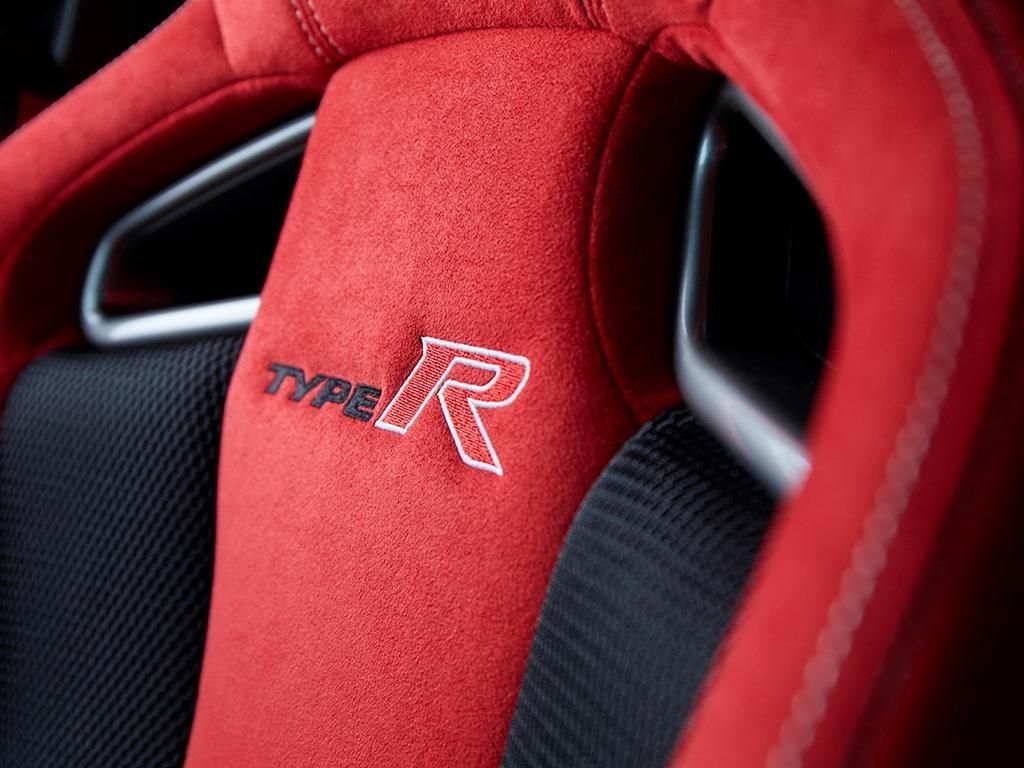 So yes, the Civic Type R has initially left a resoundingly positive initial impression. What's key to note however is that this feels a car very much in the mould of its predecessor, with a kind of touring car vibe that prioritises absolute composure and track pace. If that appeals then you will love what Honda has done, though it's hard to imagine this Type R convincing the detractors; its range of abilities is broader than ever, but it remains a harder-edged car than something like a Golf GTI. For those after something more exciting, however, the Civic Type R absolutely nails its brief: here's a hot hatch that's incredibly fast, fantastically rewarding to drive on road and great on track yet also comfortable, refined and extremely practical. This is, after all, a Honda Civic. It's a brilliant combination of talents and therefore perhaps - perhaps - the best hot hatch on sale at the moment. If you can see past the looks...
---
HONDA CIVIC TYPE R (FK8)
Engine: 1,996cc, turbocharged 4-cyl
Transmission: 6-speed manual, front-wheel drive
Power (hp): 320@6,500rpm
Torque (lb ft): 295@2,500-4,500rpm
0-62mph: 5.8sec
Top speed: 169mph
Weight: 1,451kg (with fluids and driver)
MPG: 36.7 (NEDC combined)
CO2: 176g/km
Price: £30,995 (£32,995 for GT version)