Hearts will not bleed for this plight, but very often the schedule for PH test cars is pretty tight. Much though we'd love to take every car on great roads for days at a time, the logistics of doing so rarely sit well with running a website. Too often as well launch schedules are packed with styling workshops and coffee stops rather than, y'know, the driving bit.
Violins back in cases for just a second, it means a prolonged period of time in a car is therefore a real boon. So the plan for the 911 GTS drive was simple: collect from Porsche Reading early on Saturday, get to Wales as soon as possible, stay in Wales for as long as possible, then return to Porsche Reading early on Monday. Quite a lot of fuel was burned, a few sheep were avoided and, staggeringly, many hours of sunshine were enjoyed. Hopefully a few conclusions were reached about the car too.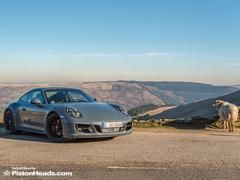 What ewe looking at? (Sorry)
You will most likely be familiar with the Porsche GTS formula now, and why it appeals to so many customers. Take the most popular options, add them in with some unique equipment too (there are brand new turbos here, for example) and then charge for it what most people probably spend on a Carrera S anyway. Simple.
Pause for thought
The Carrera GTS therefore represents an enhancement and not a transformation, basically, which means a few of the 991 gripes remain to start with. The highlight from the first few hours along the M4 and into Wales is the tremendous refinement, being blunt. Even on a motorway it feels big, sitting on the left here making it feel all the more awkward, and on smaller roads it can feel uncomfortably wide. Poor photographer Dafydd gets the near constant thump of cat's eyes on the passenger side as the width is misjudged (again) by the numpty driving.
Perhaps this will be viewed by most as a virtue and not a complaint, but the GTS initially feels a little distant, aloof almost. The damping feels super high quality and keeps the car resolutely tied down just in the standard mode (Sport feels best suited for track), but it means there's very little movement and consequently not much idea of what's going on. The tyres are gigantic as well (rear 305s are the same as on a Ferrari 599) and, combined with the 4WD, there's tremendous grip but also a sense of just aiming the front and pinning the throttle without any of the involvement or fun that make the best 911s. An old gripe perhaps, but versions like the 911 R have - in quite extreme cases, granted - proved that modern 911s can be accommodating and immersive at the same time.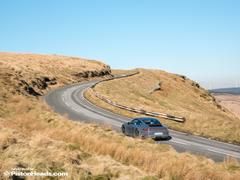 No, seriously, this is Wales in January
While we're on grumbles, the PDK doesn't exactly ramp up the fun either. This is not just curmudgeonly old traditionalists here, either; with what feels like a fairly linear delivery now, a gear doesn't have to be driven right out and being dropped into the heart of the rev range isn't helped by a whip-crack shift. Because pretty much the entire rev range is the heart. The turbo flat-six feels to be accelerating at the same sort of rate throughout, and with the seamless changes it feels like a relentless stream of acceleration rather than one with peaks to chase and troughs to avoid. Why not therefore involve yourself in the process with a gearchange - the seven-speed is much improved now, too - rather than simply sit and watch the numbers become bigger and bigger?
The GTS is far from disappointing, but neither is the end of our first day reached with a burning desire to get out driving again. Curious. Again, while it may sound familiar, there feels to be a huge breadth of talent without much required in terms of effort or proffered in terms of reward.
Sunday funday
Here, however, is the benefit of spending a little longer with a car. Well, in the 911's case that is. Perhaps it took a little while to get over it being just another 911, but this Carrera GTS does look absolutely fantastic. For some the styling may well be enough to justify the premium on its own. Coupe GTSs are 10mm lower than a Carrera S, so 20mm lower than a Carrera, and, combined with those cross-spoke wheels, it makes for a more assertive and (much) more attractive 911 Carrera. Those broader rear haunches really help, too. You could get used to the width, right?
And while the 911's is hardly the most thrilling interior - bring on the next one with a Panamera look - the basics are spot on. You sit low, the Alcantara wheel comes right out and every control has a reassuring weight to it. Where an AMG GT's steering is bit too light and it can often feel like you're sitting on top of a Nissan GT-R, there are no excuses required, from a driving standpoint at least, with the Carrera cabin.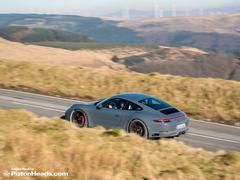 Width can be irksome, but it does look good...
Thanks to those new turbos operating at higher boost, the GTS now sports 450hp and 406lb ft. While in 2017 they don't look remarkable - they exactly match an M4 Competition Pack, for example - they are quite something as far as 911s go. In a 996 you would have needed a Power Packed Turbo for 450hp, and here we are 15 years later with that figure in a breathed on Carrera. Amazing. No doubt the same was said when a 964 had similar power to a 930 Turbo but, not only is this with another 200hp, the turbos bring so much torque as well.
This GTS is tremendously fast, all the time. You can detect some additional mid-range over an S (which has 369lb ft), but it's worth hanging on to some revs as well. No, it doesn't thrill quite like the old 3.8, though this engine rips around the dial as convincingly as any turbo engine this side of a 488. Sounds great through the sports exhaust too, gravelly lower down and howling through the upper reaches. While there isn't a step change as before, the desire of this engine to rev out will keep you venturing back (if you can avoid looking at the speedo). While it may have seemed a bit flat to start with, the energy of this 3.0-litre does a very convincing job eventually. It would definitely be better with a manual though.
Time and a place
The chassis will shine as well, it just requires a different approach. You'll search in vain for the old fashioned, touchy-feely 911 stuff, but what's in its place is a car of incredible poise, agility and composure. In Sport Plus with the dampers in their normal mode the GTS is as urgent and responsive as any sports car at this money, darting into corners without hesitation and hurling itself out with unimpeachable traction. Soon you start to trust that it has braking power, grip and damping in reserve, boosting confidence and allowing you to push harder and harder. Not exactly a recipe for easy access thrills, but quite some feat regardless. Perhaps with time and space on track, or a two-wheel drive version, the GTS would reveal a more expressive character; as is, it's a phenomenally quick car across ground, which has its own appeal in a quiet corner of Wales...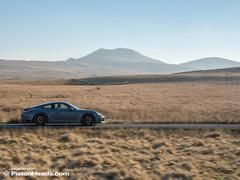 Predictably damn good, if not all that endearing
All too soon it's Monday morning and the grotty confines of the M4 return. And that's kind of the 911 appeal, isn't it? With the deep front boot and rear seats for luggage, it will cruise along at 30mpg in great comfort and not really draw any unwanted attention. Then on the right road it will cover ground quicker than anything this side of, well, a 911 Turbo. All while looking about as good as non-Motorsport 911s can. As a combination of elements for those actually in the position to spend £100,000 on a car, that makes the GTS surely very alluring. As purists we would trade a bit of that everyday usability for some additional engagement but, by offering a desirable package of upgrades at £10K more than a Carrera S, it would be our pick of the turbo Carrera range.
---
PORSCHE 911 CARRERA 4 GTS (991.II)
Engine: 2,981cc, twin-turbo flat-six
Transmission: 7-speed PDK, all-wheel drive
Power (hp): 450@6,500rpm
Torque (lb ft): 405@2,150-5,000rpm
0-62mph: 3.6sec
Top speed: 191mph
Weight: 1,590kg (EU including 75kg driver)
MPG: 33 (NEDC combined)
CO2: 192g/km
Price: 131,829 euros (159,633.35 euros as tested comprising Graphite Blue metallic for 1,178.10 euros, GTS Alcantara package for 3,379.60 euros, LED main headlights in black including PDLS+ for 2,504.95 euros, Park Assist with reversing camera for 1,594.60 euros, windscreen with grey top-tint for 113.05 euros, electric sunroof for 1,689.80 euros, PDK gearbox for 4,141.20 euros, Power Steering Plus for 261.80 euros, Adaptive cruise control including PAS for 2,201.50 euros, lane change assist for 690.20 euros, speed limit indicator for 416.50 euros, automatically dimming mirrors with integrated rain sensor for 547.40 euros, Homelink for 285.60 euros, Adaptive sports seats plus for 2,814.35 euros, seat heating for 470.05 euros, smoking package for 53.55 euros, floor mats for 178.50 euros, Burmester high-end surround sound system for 4,391.10 euros, PVTS Plus for 416.50 euros, digital radio for 476 euros)