Don't ask what it's like with the roof down. A November weekend in Wales, Rally GB weekend in fact, is not the best place to test a
without the roof. When it wasn't lashing down with rain, the skies were dark and angry, seemingly ready to drop another deluge on some pillock with their Porsche roadster. [No excuses - get back out there! Ed.]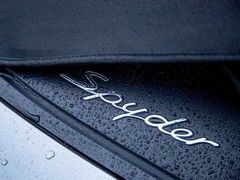 Not exactly its natural habitat!
So the roof stayed up for our weekend with the car. It was lowered, just to test the "suitable for everyday use" claim. [See above - Ed.] Then it couldn't be raised again, just as the clouds were drawing in once more. Oh. A quick YouTube tutorial revealed it was user error rather than anything overly difficult in the design, but it's worth being completely up to speed with its operation before heading off on a top-down drive. Certainly it's a marked improvement on the
Also ensure you have a good gawp at the Spyder with the roof down too, because it really is a beautiful car. The 981 Boxster already looks good but the Spyder takes it to mini-supercar territory, the lower ride height, those rear buttresses and ducktail spoiler making the shape even more dramatic. It looks superb in fact.
Of course it's not quite as stunning with the roof up, but it's arguably more cohesive than the last car and far from ugly. The test car had a reversing camera too, so even the iffy rear visibility wasn't too much of an issue.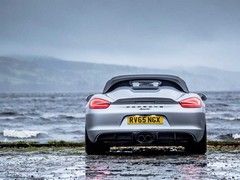 Far more importantly though, the
is certainly liveable with the roof up. Yes, there's a fair amount more wind noise than in a regular Boxster, to the point where you will think something isn't quite closed initially. It is a surprise, but you soon get used to it. Moreover, at no point did the Boxster feel vulnerable in the very worst that Storm Abigail could throw at it; 180mph felt like it would challenge the roof less! The point being that you could live with the Boxster Spyder and its roof everyday should you want to.
You really will want to as well, because the Boxster is magnificent to drive. It's important to remember the Boxster Spyder is not a Cayman GT4 with a fancy roof though; it isn't a GT department car and lacks the GT3 front suspension and the adjustable anti-roll bars. Instead it's best to consider it as a prettier, faster, fractionally lighter Boxster GTS. Hardly a bad thing, right?
The powertrain is worth discussing first, because it's simply tremendous. The Spyder is 10hp down on the GT4 but 25kg lighter too, so the acceleration feels identical. With 400cc more swept capacity than a GTS, it's the torque advantage that's most immediately obvious; the car is happy to bimble along in sixth at low speed and pulls with real conviction in fourth and fifth.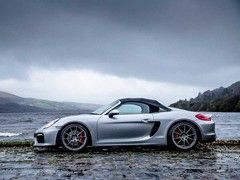 20mm lower ride height means great stance
But why leave it in a higher gear when there's a great manual gearbox - no PDK is offered on the Boxster Spyder - and nearly 8,000 revs to use? Drop down to third (or second when you remember how fast third will take you) and revel in the glorious response and beautiful yowl of that 3.8-litre flat-six. Yes, it isn't as feral as a GT3 engine at higher engine speed. But it would be absurd to expect any better for £60K. You can't imagine manual, naturally aspirated sports cars will be around for much longer and this is a fantastic reminder of why they will be so sorely missed.
The manual suits the Spyder's slightly old-fashioned nature well. During Friday afternoon rush hour on the M3 it does become tiresome, but such is the reward on an open stretch of road that those gripes simply cease to matter. Everything is sited perfectly and it becomes one of those manuals you change gear in for the sake of it. There's life in the old technology yet.
Furthermore, this Boxster Spyder was tested on the passive suspension set up, proving that a Porsche really doesn't need the PASM adaptive suspension so many are optioned with. They do a superb job of keeping body movements in check while also retaining very good ride comfort on 20-inch wheels. Unsurprisingly it slots in just between a GTS and GT4 in terms of dynamics; more dialled into the surface and agile than the former but lacking the stunning precision and feedback of the latter. Certainly at turn-in the GT4 feels more eager than this Boxster, and there is of course the Cayman's additional rigidity to consider also. But at this price point and amongst its rivals the Boxster is supreme, making the F-Type and SLK55 look rather cumbersome indeed. A comparison with an Exige Roadster seems the most logical twin test, one that we would love to conduct in sunnier climes.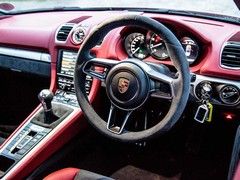 Manual and manual only - hurrah!
But even in appalling conditions, the grip, communication and excitement of the Spyder is enthralling. The brakes are excellent, allowing you to slow with real confidence and use them to make small adjustments through a corner as well. There's also a lovely window before the driving assists intervene where the diff can be felt just tightening the line out of a bend. The limits may be high, but it's entertaining enough below them that you won't mind. And should you find yourself at a wide, empty junction with the traction control off, the Boxster is more than happy to indulge...
R'd work if you can get it
Chasing Ben in the PH Fleet Golf R after the photoshoot, the Boxster is brilliant. It's wet, foggy and bumpy, with Ben also having the advantage of four-wheel drive and some local knowledge too. What he gains on corner exit is reclaimed under brakes and the car remains totally composed, alert and pretty mega actually. That won't be forgotten for a very long time.
Once Wales is many miles behind, the Spyder will mooch along the M4 in great comfort, heated seat on and Bluetooth phone conversations conducted without any fuss. The roof really is that liveable!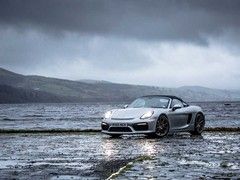 Dramatic car, dramatic scenery too...
Of course it's not perfect. While the seats are great, taller drivers may find their legs a little cramped. £1,595 for 'GT Silver metallic' seems a bit steep. And you suspect people will still get a bit sniffy about it not being a 911.
Ignore that. Ignore them. The Boxster Spyder is a tremendous car, one that's markedly more stylish, desirable, accomplished and characterful than an already very good standard product. At £60,459 the Spyder is £6,587 more than a GTS and worth every single penny. This car here is £69,702, thanks to options such as the 'Spyder Classic interior package' (£1,445), PCM at £2,141 and the digital radio (£324, cheeky buggers). But even at that money, the Spyder deserves great praise. It looks better than a 911, is more capable than an F-Type and could you really buy an AMG SLK instead? Say what you like about the SUV and saloon cash cows - the Spyder proves unequivocally that Porsche can still make world class sports cars.

---
PORSCHE BOXSTER SPYDER
Engine: 3,800cc flat-six
Transmission: 6-speed manual, rear-wheel drive
Power (hp): 375@6,700rpm
Torque (lb ft): 310@4,750-6,000rpm
0-62mph: 4.5sec 
Top speed: 180mph
Weight: 1,315kg (unladen)
MPG: 28.5
CO2: 230g/km
Price: £69,702 (Basic list of £60,459 plus £1,595 for GT Silver metallic paint, £1,445 for Spyder interior package, £563 for wheels painted satin platinum, £518 for Two-zone automatic climate control, £2,141 for Porsche Communication Management (PCM) including satellite navigation, £284 for heated seats, £801 for BOSE Surround system, £446 for reversing camera, £527 for Telephone module for PCM, £324 for digital radio, £477 for Black finish Bi-Xenon headlights with Porsche Dynamic Lighting System (PDLS) and £122 for ISOFIX front passenger seat mountings)