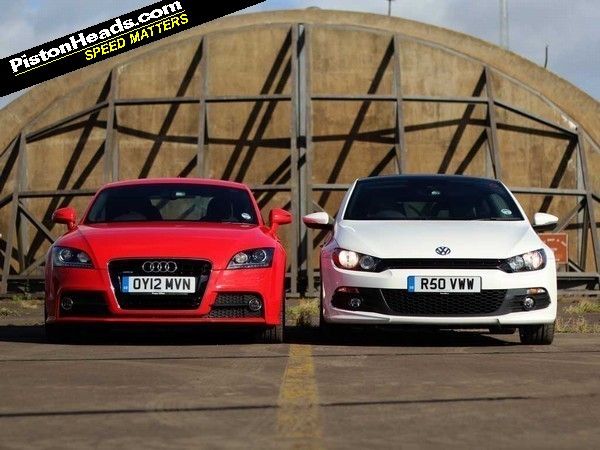 There comes a time in everyone's life when you have to accept that youth has gone. In short, you're suffering a midlife crisis. A common solution is, of course, to buy a sports car. In the long run it's probably cheaper and certainly less messy than having an affair and these days you can even have one with a sensible diesel engine - thereby reassuring your nearest and dearest that you haven't gone completely potty. And two of the finest exponents of this breed are produced by Volkswagen Group - the Audi TT 2.0 TDI Quattro and VW's Scirocco 2.0 TDI 170.
Neither one is a cheap option of course – you'll need 25 big ones for a new Scirocco, and closer to 30 for the TT. However you can pick up a mint used example for as little as half that amount, making both coupes serious contenders in terms of value for money. But which of these two Volkswagen coupe cousins will make you feel more content?
Family tree
Launched in 2008 Audi's only diesel-engined TT TDI Quattro comes in both Coupe and Roadster forms, and the Coupe especially has proved a big hit. Out of a total of 74,852 TT Coupe sales in the UK to date, 9,478 have been 170hp diesels. So any concerns that the TT's sporty image might somehow have been diluted by emergence of a diesel derivative have proved completely unfounded. To put this into perspective Audi have sold a total of 3,721 TT S and just 600 TT RS petrol Coupes.
Built on Volkswagen Group's PQ35 platform, the Walter de Silva-designed Mk2 TT carries VW's tried-and-tested 2.0-litre common-rail 170hp motor, delivering a substantial 258lbs ft of torque from just 1,750rpm and a combined fuel consumption figure of over 50mpg. All £28,305 UK models come with Quattro four-wheel drive and buyers can choose between a six-speed manual and a six-speed DSG 'box, with the manual currently proving the more popular.
With instantly-recognisable styling, a heritage stretching back to 1998 and benchmark interior build quality the TT TDI seems an impressive overall package, with a standard spec including climate control, sports seats, 17-inch alloys, a retractable rear spoiler and split-folding rear seats.
£30,295 S line models add leather upholstery (rather than the standard Alcantara items) 19-inch alloys and a bodykit with a new front bumper, a carbon-look lip spoiler and a rear diffuser, whilst the top-of-the-range £33,540 Black Edition also boasts a BOSE sound system, iPod and Bluetooth phone preparation and a styling makeover with tinted glass. Many first buyers also choose the Comfort package which includes parking sensors, an auto-dimming rear-view mirror and cruise control.
Scirocco buyers had to wait until May 2009 to get their hands on an equivalent-powered 170hp TDI version, with the lower-powered 140hp diesel model launched first in 2008. Also based on the PQ35 platform the standard 170hp spec is actually a step up on the TT, with base £25,450 GT models packing 18-inch 235/40-shod alloys, chrome twin exhaust pipes, heated leather front sports seats, colour-coded bodywork, air-conditioning and Bluetooth prep. Once again you can have a manual or DSG six-speed transmission and - if you splash out an extra £1,525 on an R-Line model -19-inch alloys, cherry-red light clusters and lashings of R-Line branding. Better value than a TT then - and the rear seats are more spacious too, although you do miss out on four-wheel drive.
Power output is identical to the TT and weight and top speed too (give or take 5kg and 2mph), but the TT's gearing makes it a good half a second quicker to 62mph. The VW counters though with marginally better fuel economy figures and slightly lower CO2 emissions, which - taken in conjunction with the lower asking price - go some way to explaining how the Scirocco TDI has out-sold its TT cousin. UK Scirocco sales total 29,087 to date, with 13,060 possessing a diesel engine. However, the 170hp version makes up for just 3,526 of these, with most diesel Scirocco buyers opting for the tamer 140hp option instead.
| | |
| --- | --- |
| | |
Brothers in arms
No one does platform sharing better than the Volkswagen family and both relatives are built on the same PQ35 Audi A5 base platform. The starting point for most of the company's small to medium vehicles this platform is now used for a staggering 19 different models - other grateful recipients include the Mk5 and Mk6 VW Golf, Mk2 Skoda Octavia, Mk2 SEAT Leon and the Mk2 Audi A3. But although the TT and Scirocco share much common DNA, they have evolved quite differently.
Every Audi TT TDI begins life in Ingolstadt where the bodyshell is produced, after which it's sent by train to Gyor in Hungary for drivetrain installation and final assembly. Aluminium is used extensively in the TT's front body panels, whilst steel is preferred for the rear - a neat trick to help deliver a near-perfect front-to-rear weight distribution. The VW Scirocco in contrast is manufactured in just one plant - VW's AutoEuropa assembly plant in Palmela, Portugal. Originally built as a joint venture in 1996 to manufacture VW's Sharan, Ford's original Galaxy and SEAT's Alhambra, this factory is now wholly VW-owned.
By the time a new Audi TT arrives - possibly in 2014 - the PQ35 platform is likely itself to have evolved, into the MQB platform already used for the MK3 Audi A3 and Mk7 VW Golf. Presumably this would form the basis of any future new VW Scirocco too, but whether the next TT shares the same platform is at this point unclear.
| | |
| --- | --- |
| | |
Family feud
Beauty is in the eye of the beholder they say, but it's hard not to admire the TT's suave styling. With its curving, pedestrian-friendly nose, sweeping side-lines and pert rear the TT is an instantly-recognisable status symbol and looks good in almost any colour. The Scirocco in contrast is the TT's dowdy cousin, with looks seeming colour dependent - our white test car cut an undeniable dash, but other colour schemes split opinion. The Volkswagen also takes the opposite front-to-back approach with a sharper more aggressive front end yet a wider-looking - some might even say big - rear end. More practical yes - but sports coupe, rather than sports car styling. And the TT's greater glamour extends into the cabin too which - in spite of a marginally less contemporary design - still looks and feels far classier.
Get out on the open road and that sibling rival becomes even fiercer. With sharper steering, seemingly unending grip and more responsive brakes the TT does a brilliant job of hiding its oil-burning heart, while the tighter cabin and lower driving position make the Audi feel like a proper driver's car. The Scirocco on the other hand, whilst delivering almost the same performance figures and sounding gutsier, struggles to get that torque down on damp surfaces, doesn't possess quite the same directness of steering and feels slower to haul itself up. And the cabin - whilst more capacious - uses mainly hard plastics and feels almost rudimentary by comparison. Yes you can drive the VW damn near as quickly as the TT, but after a while you don't really want to.
If you're buying new then the Scirocco offers finer value, with the less roomy TT not worth an extra five grand. But with early 2008 TT TDI Quattros selling for the same money as a 2009 Scirocco TDI, the VW loses any financial advantage if you're buying used. And with both models possessing very similar ownership costs it's the TT which offers the better solution to any impending midlife crisis.
---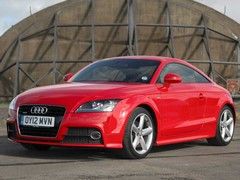 AUDI TT 2.0 TDI QUATTRO COUPE
Engine:
1,968cc 4-cyl turbo
Power (hp):
170@4,200rpm
Torque (lb ft):
258@1,750rpm
Transmission:
6-speed manual /6-speed DSG
Kerb weight:
1,390kg (DSG 1,415kg)
Top Speed:
140mph (DSG 139mph)
0-62mph:
7.6sec (DSG 7.5sec)
MPG:
53.3 (NEDC combined) (DSG 51.4)
CO2:
139g/km (DSG 144g/km)
Price:
£12,500 to £29,995
Manufactured:
2008-on
Love it:
Glamorous, grippy and gratifying - a class act
Loathe it:
Far from exclusive, despite the high price tag
Spotted:2009 Audi TT TDI 170 £16,980
---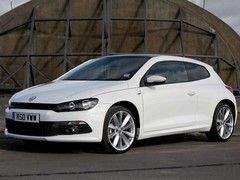 VOLKSWAGEN SCIROCCO 2.0 TDI
Engine:
1,968cc 4-cyl turbo
Power (hp):
170@4,200rpm
Torque (lb ft):
258@1,750rpm
Transmission:
6-speed manual /6-speed DSG, front-wheel drive
Kerb weight:
1,395kg (DSG 1421kg)
Top Speed:
138mph (DSG 136mph)
0-62mph:
8.1sec
MPG:
55.4 (DSG 51.4)
CO2:
134g/km (DSG 144g/km)
Price:
£14,395 to £24,995
Manufactured:
2009-on
Love it:
Still fun to drive despite the more economically-focused engine
Loathe it:
Looks split opinion, a similarly-priced Golf is more practical
Spotted:2009 VW Scirocco 2.0 TDI 170hp £15,950