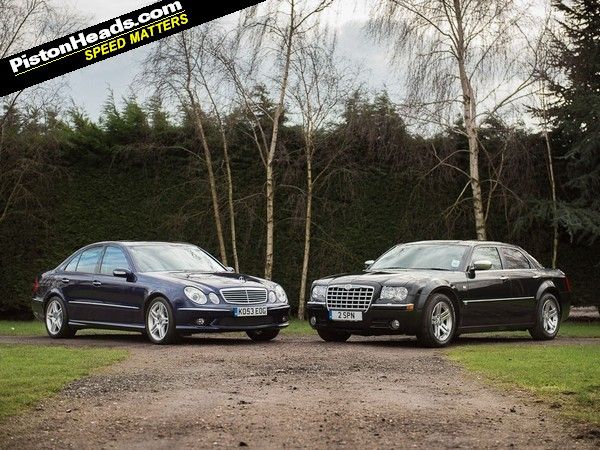 What's more appealing than a V8-powered rear-drive sports saloon? Well two of them of course. And that's exactly what PH has brought together for your delectation and delight.
Mercedes' W211 E55 AMG might appear to have little in common with Chrysler's bold first-generation 300C Hemi (except for the V8 engine configuration) but outward appearances are deceptive - these two hot-rod limousines actually share some of the same automotive DNA. In fact both are direct descendants of the goggle-eyed 1997-2002 W210 Mercedes E55 AMG. An early player in an illustrious line of 55-badged AMGs, the W210 may have lacked the later supercharged clout, but with 354hp and 390lb ft of torque it more than lived up to the AMG blueprint. And that same ethos was carried forward into the two cars you see here - the supercharged 476hp W211 Mercedes E55 AMG and Chrysler's normally-aspirated 340hp 300C Hemi V8.
Boasting potent performance and executive saloon practicality, both offer huge reserves of power and acres of sumptuous comfort. Roguish yet refined, as used buys they deliver awesome metal for your money - the wonders of depreciation have seen to that. In short, these two sons of the W210 offer two contrasting but affordable routes to V8 barge heaven.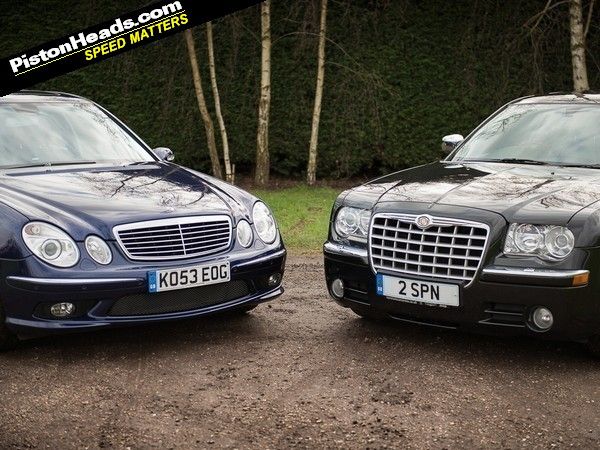 Family tree
Mercedes' W211 E55 AMG was the first of this pair to arrive. Launched in Autumn 2002, it was armed with a supercharged 476hp 5.4-litre V8 enabling it to breach 62mph in a mere 4.7 seconds (or 4.8 seconds in estate guise) and reach somewhere in the region of 180mph when delimited. Awesome stats for a four-door saloon, even by today's standards. The IHI supercharger imbued the E55 with massive low-end torque - 516lb ft from just 2,650 revs to be precise - and enabled the mighty Merc to out-accelerate almost every production saloon.
But it wasn't just the £60,640 E55's performance which was class-leading; its equipment spec was too. UK models were primed with just about every available AMG option from the E-Class options list, including a five-speed automatic transmission with an AMG Speedshift function, AMG-tuned ESP with ASR, twin-spoke 18-inch alloys and AMG Airmatic suspension. In-cabin luxuries included AMG two-tone Nappa/Nubuck leather trim, an impressive Harman Kardon LOGIC7 sound system and electric heated memory seats, whilst ultimate car-park kudos was assured with discreet V8 Kompressor lettering on the front wings.
A legend in its own lifetime, the E55 AMG continued (in both saloon and estate form) until it was superseded by the normally-aspirated E63 AMG in 2007. Over its four-year lifetime 647 lucky UK buyers got their hands on one.
Chrysler's American-styled £32,995 300C Hemi arrived on the scene a little later than the W211 Mercedes, with US models launched in 2004 and right-hand drive UK cars in September 2005. But the format was the same - a potent V8 engine driving the rear wheels and an opulent interior spec. Built in Austria, rather than the USA, all UK cars boasted ESP, traction control, front and rear side-curtain airbags, xenon headlamps, rain-sensing wipers, rear parking sensors, air-conditioning and heated leather seats, a sunroof, sat-nav and a seven-speaker premium sound system.
Unlike the Mercedes, the 300C's two-spark-plugs-per-cylinder Hemi V8 was normally-aspirated, but still produced 340hp and 387lb ft of torque enabling the 1,910kg saloon to hit 62mph in an official 6.4 seconds. In reality it was quicker, with a top speed limited to 155mph.
A £34,245 300C Touring followed in April 2006 before both models were facelifted in February 2008 - with the 5.7-litre UK HEMI model replaced by a thunderous £41,795 6.1-litre SRT-8. Boasting high performance Brembo callipers plus tuned steering and suspension, it generated 425hp and 420lb ft of torque, taking the SRT-8 to 62mph in just 5.0 seconds and on to a top of speed of 165mph. Attractive pricing allowed Chrysler UK to shift 9,898 first generation 300C models, of which 463 were HEMI V8s.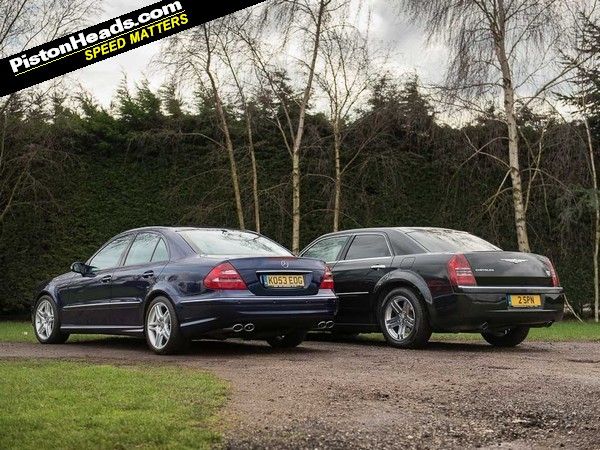 Brothers in arms
Despite what you may have read elsewhere it's not just the fundamental super-saloon concept that these two share in common. One quick glance at the rear three-quarter stance of these two hints at some shared DNA, although - like many half-brothers - they have clearly developed independently.
Chrysler told us that elements of shared architecture include the short- and long-arm front suspension geometry, the five-link independent rear suspension system, chassis cross-member components including the toe board and the safety cage architecture and load-path philosophy. And if you don't believe them, you can ask Dr Zee.
Meanwhile, Mercedes-Benz confirmed that several individual components were shared from within the DaimlerChrysler Group, including the ESP system, the CAN Bus electrical architecture, the five-speed automatic transmission and several other electrical modules. So quite a bit in common then - despite the decidedly different styling. We suspect that a decade on, though, it's the Chrysler owners that feel happier about this family relationship.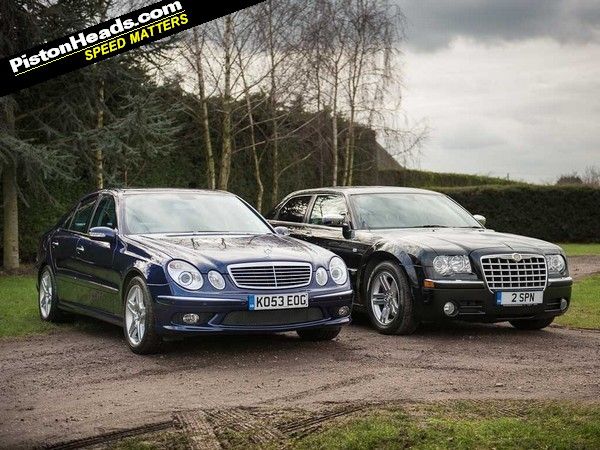 Family feud
Mercedes moved away from the W210's boxy styling when it launched the sleek W211 E-Class, with the E55 AMG model adding a sprinkling of AMG glitz. But if it's glitz you want, the US-focused 300C revels in it. From the butch front end to the high and rising shoulder line and boot, the extrovert Hemi announces its arrival visually as well as aurally. In terms of looks the E55 AMG is a shrinking violet by comparison - despite those quad exhausts. Inside too, the Chrysler feels that bit more triumphant and has some lovely touches, chrono style gauges included.
But the AMG Mercedes holds all the brand aces. And once you step on the gas it steals your heart too. Compared to most saloon fare, the 300C's performance is substantial, but Mercedes' Stuttgart star delivers truly epic performance, with a soundtrack to match. In standard trim, of course, the Mercedes will show a 300C a clean pair of heels every time - even if you are lucky enough to get your hands on a super-rare SRT-8 model - and the E55 also possesses greater steering finesse, quicker cornering ability and an even more compliant ride. But it's not all about performance - the Merc's cabin also feels more expensive (which it is) and although quicker it's also more relaxing to drive. What's more, the price premium over a 300C for this extra panache, which once touched £30,000, is now down to just a couple of grand. Depreciation for both is similar while running costs and reliability are on a par too.
| | |
| --- | --- |
| | |
You can probably see where this is heading and it's clear the Mercedes delivers several knockout blows to its American cousin, no matter how close the relations. Which isn't to write the Chrysler off completely. There's an easy-going charm about it and while an E55's subtly means it won't stand out in a car park full of German luxury metal the 300C is always going to be a statement car. The Hemi is affordable, old-school V8 fun with an iconic name but if you can find an SRT you've got the necessaries to really live the American dream in all its glory.

---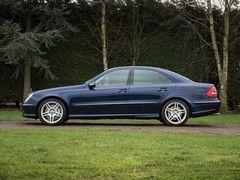 Mercedes E55 AMG
Engine:
5,439cc V8
Power (hp):
476@6,100rpm
Torque (lb ft):
516@2,650 to 4,000rpm
Transmission:
5-speed automatic
Kerb weight:
1,835kg
Top Speed:
155mph (limited)
0-60mph:
4.7secs
MPG:
21.9 (NEDC combined)
CO2:
310g/km
Price:
£5,495 to £15,995
Manufactured:
2002-2006
Love it:
It's on most petrolheads' top 10 'must own' list
Loathe it:
Looks like any other Mercedes saloon from a distance
Spotted:2005 E55 AMG saloon, 103,000 miles, £11,495
---
Chrysler 300C Hemi V8Engine:
5,654cc V8
Power (hp):
340@5,150rpm
Torque (lb ft):
365@4,250rpm
Transmission:
5-speed automatic
Kerb weight:
1910kg
Top Speed:
15,5mph (limited)
0-62mph:
6.2secs
MPG:
23.0 (NEDC combined)
CO2:
291g/km
Price:
£4,495 to £9,995
Manufactured:
2005-2008
Love it:
Stateside bruiser looks
Loathe it:
'Hi, I'm Ed Winchester' image, Bentley grilles on diesel versions
Spotted: 2005 Chrysler 300C 5.7 Hemi, 30,000 miles, £7,250

---
Editor's Note: Our original plan for this feature involved the 300C SRT-8 but the car we were going to shoot pulled out so a huge thanks must go PHer Peter Nixon for allowing us to use his Hemi instead. His car is for sale and can be seenhere. Our thanks also to Steve Perrett, for the loan of his immaculate E55 AMG.