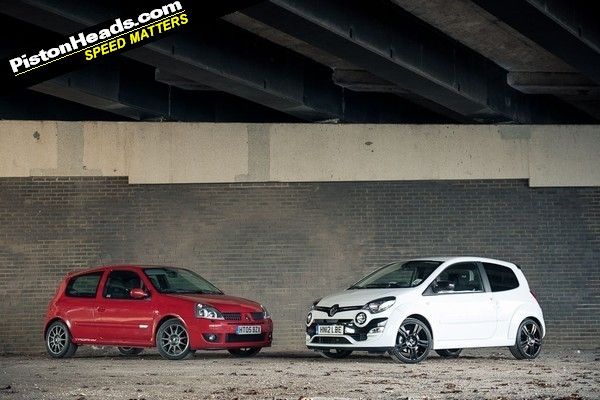 Let's be honest - despite some questionable automotive offerings in other areas the French are past masters at building fun, affordable hot hatches. And although the Volkswagen Golf claims to be the originator of this particular genre, those of a more Gallic persuasion would beg to differ, citing the fact that the original Renault 5 Gordini actually beat the first
GolfGTi
to the market, albeit by a matter of days. Since then the Volkswagen Group have since tried to own the sub-premium end of the hot-hatch market - sometimes putting build quality above driver enjoyment - but Renault has stuck more closely to that original affordable hot-hatch ideal. First with their seminal Renault 5 Alpine/Gordini and legendary
Renault 5 GTTurbo
; and then more recently with their rewarding
Clio Renaultsport 172
,
182
,
197
and current
200
models.
But with the hot-hatch market heading inexorably towards more efficient turbocharged power plants and safer but heavier chassis, the days of the genuinely light-weight, high-revving hot hatch may be numbered. The imminent Clio 200 Turbo launch bears witness to this. And that's why it's such a relief that there's still a contemporary Renault hatch like the Renaultsport Twingo 133. Sticking to minimum mass and maximum fun it may lack the Clio's hard-core edge, and is in truth more warm than hot, but behind the wheel it's every bit as much fun - and shares a surprising amount of DNA in common with the Clio 182 Trophy.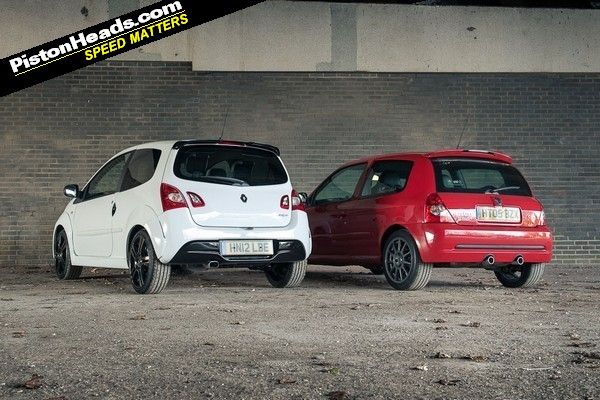 Family tree
British buyers possess an almost insatiable lust for Renaultsport models - so few were surprised when Renault choose to launch a UK-focused limited-edition Trophy model to mark the end of Clio II production. Following in the well-worn footsteps of the Clio 172 and 182, the Capsicum Red-only Clio Renaultsport 182 Trophy was based on the 2.0-litre 182 Cup - but added a few bespoke goodies such as a larger V6-style rear spoiler, black Recaro Sport Trendline seats (which lowered the driving position by 10mm), branded doorsill covers, a new steering wheel, Sachs Race Engineering front dampers with revised 10mm-lower springs, Speedline Turini alloys, a smattering of Trophy logos and a series plaque.
Unveiled at the 2005 Monaco Grand Prix just 500 right-hand drive models were built at Renaultsport's Dieppe factory between June and September 2005 and priced at a then fairly reasonable £15,500. Outright speed was little changed from the 182 Cup (0-62mph in 6.9 seconds) but the handling and chassis control were significantly enhanced. The Sachs dampers - which were normally only used in competition cars - cost around ten times as much as standard items and featured a remote reservoir, a stiffer damper rod and increased oil volume - allowing for better thermal stability and more efficient operation. They also featured a hydraulic bump stop which permitted the lower ride height to work without compromising bump travel.
| | |
| --- | --- |
| | |
Renaultsport didn't get its hands on a right-hand drive Twingo until 2007, even though left-hand drive cooking models had sold well in Europe as far back as 1992. Based on the same Clio II platform the 2008 model Twingo Renaultsport 133 was first revealed at the Paris launch of Renault's F1 R28 Grand Prix car, before a formal launch at Geneva in Match 2008.
Starting with a base 109bhp 1.6-litre unit from the standard Clio, Renaultsport applied considerable technical wizardry to produce a 133bhp output, with a raised compression ratio and special camshafts which allowed for higher and longer valve lift. Manufactured in Slovenia the Twingo RS 133 offered lower running costs than almost all other hot hatches and proved a recession hit in the UK, with buyers lapping up 1200 UK examples to date. Facelifted in April 2012 with external and internal styling changes, new alloys, cruise control, Bluetooth and new a new 80W sound system, all Renaultsport Twingos employ the same engine - although 2012-on models claim slightly improved economy and marginally lower CO2 emissions.
As well as a warm 8.7-second 0-62mph time there is also an optional Cup chassis (which comes with 17-inch alloys rather than 16-inchers), whilst all Renaultsport Twingos boast sports front seats, two sliding rear seats, electric windows and mirrors, fog lamps, a Renaultsport rev counter and suspension, disconnectable ESC, tinted windows, air-con, a black rear spoiler and a chrome tail-pipe. 2012 models even have an optional onboard telemetry system. Prices start at £13,565, while options include that Cup chassis, a bespoke Renaultsport exhaust, 17-inch alloys, a panoramic sunroof and the Renaultsport Monitor real-time telemetry display.
| | |
| --- | --- |
| | |
Brothers in arms
Although the Twingo is strictly the Clio's cousin rather than a direct descendant (that honour went to the heftier 2006 Renaultsport Clio 197) and in original 2008 form was separated by three years of evolutionary development, the family resemblance - even with this revised 2012 Twingo - is inescapable. Renault tells us that, as well as being built on the same Clio II Renaultsport platform, these two hot hatches also share the same basic rear-axle set-up. We don't doubt that, but suspect that they may also share a little bit more. Renault claim that pretty much everything else on the Twingo RS 133 is either completely new, or significantly developed/modified from the Clio II. But seeing the two side parked by side there are so many external design characteristics in common it seems hard to believe - similar height, similar roof-lines, similar stance, similar-looking bonnets, windscreens, B-pillars... the list goes on. And despite very different-looking interiors, some of the switch-gear seems almost identical. What is certain is that both (thankfully) take the same high-revving, normally aspirated approach to hot-hatch power delivery and both major on handling finesse.
| | |
| --- | --- |
| | |
Family feud
For all their commonality, there are some pretty major differences too. Perhaps the most obvious is price. The wonders of deprecation mean that a Clio 182 even in Trophy form is now accessible to almost all. Whereas a Twingo 133 is still a relatively new model - with a price tag to match. The earliest cars are six grand or more.
Greater supply means Twingo deprecation is likely to be steeper however, whereas the Trophy, as a limited edition, should hold its value better. But it's still a long way from being an appreciating asset.
In terms of straightforward running costs the Twingo has the Clio beaten all ends up, but the Clio counters with greater performance and a higher PH rating. And although the newcomer has funkier up-to-date styling, not everyone necessarily wants that in a hot hatch. It does have those handy sliding rear seats though - but even with them at their furthest forward, the Clio boasts better boot space.
Behind the wheel the Twingo feels more upright, although you actually sit lower. Both Renaults of course offer figure-hugging sports seats and five-speed 'boxes, with the Twingo transmission slightly notchier, but shorter of throw. The Clio does offer a marginally greater degree of steering feedback whilst both hatches handle with similar overall aplomb - however the Twingo's brakes are definitely stronger. That wacky dashboard layout must put some buyers off though.
After a few days behind the wheel those who have a genuine respect in their hearts for the Renaultsport ethos will find much to admire in the Twingo 133, even if it doesn't boast quite the same petrol-head kudos as the Clio Trophy. The common DNA is undeniable. But a serious family rivalry? Probably not. More of a grudging respect from a distance. And right now with no price overlap these two Renaults may appeal to different kinds of buyer. But in a couple of years' time, who knows? One thing is for sure though - some of that Clio Trophy spirit lives on, in the Renaultsport Twingo.

---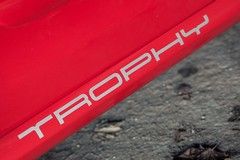 RENAULTSPORT CLIO 182 TROPHY
Engine:
1,998cc 4-cylinder
Power (hp):
182@6,500rpm
Torque (lb ft):
148@5,250rpm
Transmission:
5-speed manual
Kerb weight:
1090kg
Top Speed:
140mph
0-62mph:
6.9secs
MPG:
34.9 (NEDC combined)
CO2:
194g/km
Price:
£2,295 to £4,595 (Cup and Trophy)
Manufactured:
2003-2005 (Cup and Trophy)
Love it:
Stupidly low prices for a future classic
Loathe it:
Replacing those Sachs front dampers ain't a cheap business
Spotted:
http://classifieds.pistonheads.com/classifieds/used-cars/renault/renaultsport-clio/renault-clio-sport-182-2-0-16v-both-cup-packs-54-plate/918023
---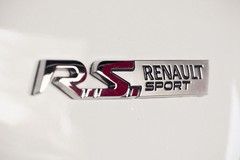 RENAULTSPORT TWINGO 133
Engine:
1,598cc 4-cylinder
Power (hp):
133@6,750rpm
Torque (lb ft):
118@4,400rpm
Transmission:
5-speed manual
Kerb weight:
1050kg
Top Speed:
125mph
0-60mph:
8.7secs
MPG:
43.5 (NEDC combined)
CO2:
150g/km
Price:
£5,995 to £13,565
Manufactured:
2008-on
Love it:
Cute looks fool almost all other road users
Loathe it:
Dashboard design is one step too far
Spotted:
http://classifieds.pistonheads.com/classifieds/used-cars/renault/renaultsport-twingo/renault-twingo-renaultsport-1-6-133-2-owners-fsh/931274
---