Think back to all the things we, in our more Luddite moments, have moaned about in modern performance cars. The inert steering, pointlessly complex driver modes, gimmicky multi-mode dampers, over-long gearing, low-rev turbo torque replacing normally aspirated horsepower, the dominance of automated gearboxes in supposedly purist 'driver's cars', the spiralling of weight, size and power in apparent denial of the fact roads aren't getting any bigger and speed limits any higher or less rigidly enforced. Could go on.
Real-world cars ... tested in the real world
But the demand remains for bigger, better, faster and more. And the big European players seem only too happy to drive it, layering on ever less relevant quantities of power, expense, technology and complexity over what should really be a pretty simple pleasure.
Weird then that the nation that best 'gets' what we seemingly should actually want out of our performance cars is the one on the other side of the world. More so that a significant number of people dismiss its output for being flimsy, underpowered and insufficiently macho while happy to pay a premium for overdelivery on ability they'll never actually enjoy.
If you're one of those people a comparison between a bare-bones Toyota GT86 and a Mazda MX-5 is probably going to make you quite cross. Sorry. But if you're broad-minded enough to consider a maximum of 200hp, a normally aspirated engine, manual gearbox, rear-wheel drive and a focus on nailing the basics then read on as we attempt to discover which of these two cars does the 'relevant performance' thing best.
Mazda MX-5 2.0
You probably don't need a lecture on why
the Mazda MX-5
is here and if you still don't get it after four generations and 25 years on sale you likely never will. So we'll cut right to it and explore if this new one really can claim to be the answer to everything as fanboys (and the odd T-shirt) claim.
Engine a zinger with a few miles on it
Most shocking about the Mazda in a modern context is its lack of size. It really is dinky and makes
this 2.0's
'big' wheel option of 205/45 tyres on 17s look as much as you'd ever need. Bear in mind you can now spec a base Boxster with 20-inch rims... It's dinky enough that taller folk are going to struggle, our Matt included. Much over six foot? It may not be for you.
More aggressive looks or not it's refreshing that Mazda has totally resisted the temptation to make the MX-5 more butch or 'manly'. Rather the opposite. The impressive weight saving over the previous NC version is expressed with corresponding light controls, from the steering to the short-throw gearshift. But it also feels significantly better built, the cabin more stylish and of higher quality than any previous MX-5.
Previous cars we drove here in the UK felt a little flat and lacking in character but the fact this one has already had a week of thrashing on Scottish roads in the hands of various hacks seems to have loosened things up nicely. With a few miles on it the 2.0 Skyactiv G motor has a real zing about it, revving keenly to its metallic edged top end. The linearity of the way it delivers its 160hp and 148lb ft is unlikely to overturn any stereotypes about MX-5s feeling gutless compared with 'real' sports cars though. And a little more attitude in the sound would help complement the close gearing and brilliant shift. Stirring it and revving it out to make the most of what it's got is no hardship - a pleasure in fact - but a little more aural reward would be nice.
Simple, stylish and well screwed together
Like many previous standard MX-5s you get the impression it's not quite been set up to best show off the fundamental qualities of the design. It looks like it rides too high and it feels very on its tip-toes too, with an unpleasant dartiness with the first few degrees of lock, nasty shudders through the body thanks to springs and dampers set to a marketing definition of 'sportiness' and a surprising snappiness at the limit on wet roads.
Smooth your inputs and focus on keeping it settled and it's still fun though, the most startling thing being the sense of lightness and lack of inertia. The MX-5 doesn't need that pointiness in the set-up because it's naturally so agile anyway and carrying speed is the real joy of this car. The ability to drop the roof (twist and go, no faffing around with a power hood) and soak up the atmosphere adds to the emotive appeal, the way the colour coded door cappings visually link the cabin with the body just one of many design tricks to emphasise it's meant to be enjoyed in the open air.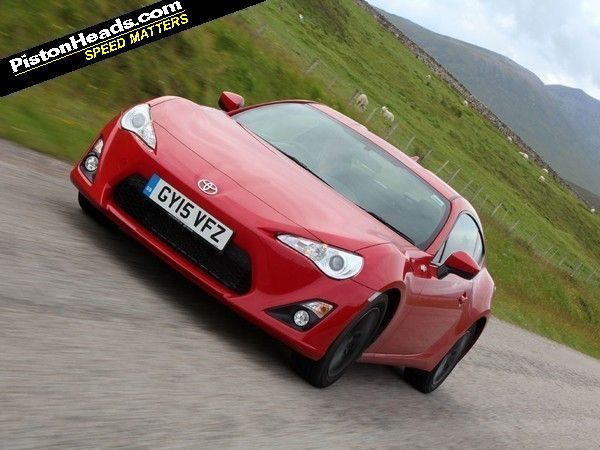 Toyota GT86
If the MX-5 is unabashed about being an out and out roadster the GT86 is more serious about being a sports car, even if a significant proportion of people think it's packing insufficient heat to live up to the claim. It's got a lot more than the Mazda though - 40hp more - and the flat-four is more torquey too. But it's also nearly a quarter of a tonne heavier - a quarter of a tonne! And compared like for like they have a near identical power to weight ratio of 160hp/tonne. Again, like the Mazda the engine seems to improve with a few miles and has a pleasingly hard edge to its induction noise. But it's gruff and less willing to rev out than the Mazda's.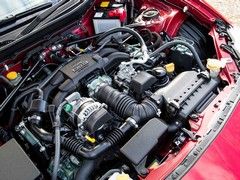 Gruff but considerably more powerful
The power difference isn't quite as telling on the road as the numbers suggest though and the '86 feels a much more serious and less playful car than the MX-5. The driving position is brilliant; low slung, wheel pulled to your chest, pedals spot on and gearknob right where you want it. It's more accommodating of lanky bods as well. The visibility is great too and, like the Mazda, it has little peaks on the wings to help you position the car right into the corner. Both these vehicles have a sense of being developed by folk properly geeky and obsessive about the little details of how to make a car fun to drive, the psychological and physical interactions between man and machine that matter so much. Those that are so widely ignored in more 'senior' machinery.
Out of the box the Toyota feels better set up too, with more linear and predictable steering, more progressive spring and damper balance and a generally more planted feel. The extra weight and stiffer body will make a difference here but even so it can get a bit frisky on high-frequency bumps, the extra softness in the big sidewalls of this 16-inch wheeled car probably throwing in a degree of undamped body movement. Both cars have impressively harmonised control responses but the Toyota feels a little more comfortable in itself. It also feels absolutely bombproof too, like it would happily soak up a lifetime of being absolutely caned.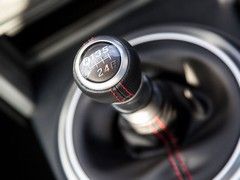 Both cars fly the flag for the manual gearbox
Mechanically at least. The cabin feels a decade (at least) behind the Mazda in terms of finish and materials and though functional enough and ergonomically brilliant there's little surprise or delight to be found. Admittedly,
this Primo model
is the absolute pared back version in the range but even so it's a functional workspace.
Do either of them have the power to really exploit that rear-driven balance? If you're thinking Jaguar F-Type style lock-stops showboating then no. It's a more subtle separation of the influence of steering and drive on the balance of the chassis and you need a degree of sensitivity for such things to appreciate it. Both put close-geared, short-throw manual gearboxes and a need to stir them around to keep the engines fizzing at the centre of the action, crisp throttles and well-positioned pedals encouraging the kind of fancy footwook that can make 'fast road' pace such life-affirming fun. So many modern performance cars focus on the ends - in these two it's about enjoying the means and a joy in the basic process of driving. Bravo for that.
Both would probably be shown a clean set of heels by a well-driven junior hot hatch, let alone a junior diesel repmobile. But because both manufacturers have opted for an appropriate amount of rubber and grip for the respective power outputs the rewards come from sensation, rather than numbers.
Verdict
For those who do subscribe to the idea there's more to life than horsepower and spec sheet manhood measurement it's great to see two mainstream manufacturers attempting to steer the conversation in another direction. Whether the audience, conditioned on more has to be better, are willing to listen is another thing. But if Mazda and Toyota think it's worth developing bespoke rear-driven platforms for volume products like this there must be enough demand out there. There is hope yet.
Toyota leads, Mazda follows ... closely!
But which is the better car? In simple terms the Mazda is more fun and the achievement in building a modern car with all the safety paraphernalia demanded by current legislation to such a minimal weight deserves huge credit. The wind in the hair aspect helps pluck the heartstrings too and if you want even an everyday drive to become an experience it's all there.
Out of the box the Toyota is the better driver's car though. The MX-5 is a few subtle tweaks away from brilliance in this regard and there's no doubt some simple fettling could unlock its potential. But on this showing the GT86 is more focused, balanced and rewarding to drive.
Whichever appeals most is not the most important thing here though. For all those moans about modern performance cars we should be glad at least these two are keeping it real.

---
MAZDA MX-5 SKYACTIV-G 2.0 SPORT NAV
Engine: 1,998cc, 4-cyl
Transmission: 6-speed manual, rear-wheel drive
Power (hp): 160@ 6,000rpm
Torque (lb ft): 148@4,600rpm
0-62mph: 7.3sec
Top speed: 133mph
Weight: 1,000kg ('minimum' kerb weight, not including driver)
MPG: 40.9mpg (NEDC combined)
CO2: 161g/km
Price: £23,295
TOYOTA GT86 PRIMO
Engine: 1,998cc flat-four, direct injection
Transmission: 6-speed manual, rear-wheel drive
Power (hp): 200@7,000rpm
Torque (lb ft): 151@6,400-6,600rpm
0-62mph: 7.7sec
Top speed: 140mph
Weight: 1,238kg ('mass in running order', not including driver)
MPG: 36.2
CO2: 181g/km
Price: £22,495
Additional GT86 photos: Ben Lowden