RE: £1m Scamera 'Not For Casualty Reduction'
Thursday 2nd December 2010
£1m Scamera 'Not For Casualty Reduction'
Council refuses to raise speed limit at lucrative camera site
---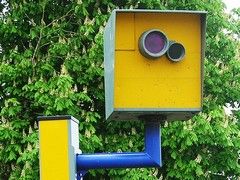 As the 'will they, won't they' scamera switch-off debate rumbles tiresomely on, we'd like to award a virtual gong on behalf of motorists everywhere to Councillor Phil Eades, who's been trying to do his bit for common sense in the Borough of Poole, in (not so) far-flung Dorset.
According to local newshounds, Cllr Eades has been trying to get a speed limit raised to 40mph at a spot on a dual carriageway where a 30mph scamera is set to rake in £1million in fines, even though the limit is 40mph in the other direction (where there's no camera), and police say the limit is nothing to do with casualty reduction.
Guess what? The local council has rejected the plea on the advice of its Transport Services Department, which is reported to have said a move to 40mph would cost £24,000 in new signs, advertising(?), modifications to the junction and an anti-skid surface. Oh, and one (yes, just one!) pedestrian apparently expressed concerns about 'near misses' with vehicles.
Cllr Eades concludes the camera is for 'revenue generation, not road safety', and he's not been afraid to speak up: "To me that's daft. It's either safe or it isn't," he said. "It can't be safe one way and not the other."
"I think it's a total set up. I'm not a speed camera crusader but that's not right," he says.
Even the local police are reported to have admitted the camera and limit are a result of 'community concern' and nothing to do with casualty reduction.
Gassing Station | Speed, Plod & the Law | Top of Page | What's New | My Stuff